Wait and see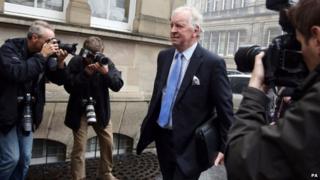 Politics is frequently about waiting. Marking time while, of course, giving the impression of permanent and energetic endeavour in the public interest.
Those of us who angle in the Scottish political pool are also presently waiting, primarily for the White Paper on independence which will set the terms of the referendum debate: not least because it is that document which voters will be invited to judge when they go to the polls in September next year.
As in the devolution referendum of 1997, it is a detailed prospectus rather than completed legislation which will be placed before the voters. Which makes the wait worthwhile.
And now we have another wait. A reasonable and understandable delay while the Presiding Officer decides when to hold the Holyrood by-election in Dunfermline to find a replacement for Bill Walker who has either.....
a) been hounded out of office by intolerable media pressure (Source: Walker, W);
or b) finally bowed to the inevitable and done the decent thing (Source: everyone else).
The two are not unconnected, at least in the interim. Firstly, the issue of timing. The decision, as I noted, lies in the hands of the PO, Tricia Marwick. However, she has said that she will consult the political parties, as is wise and sensible.
The view she will hear from the SNP is that "'twere well it were done quickly." They want it out of the way, well out of the way, before publication of the White Paper which is scheduled for this autumn.
In fact, the Nationalists have a date in mind: Thursday October 24. Already that day there is a local council by-election scheduled in Dunfermline. Why not, say SNP strategists, hold the two polls on the same day, avoiding the inconvenience of obliging the citizens of the ancient capital to trudge out twice on electoral duty?
Those with easy access to a calendar will also note that October 24 is the week after the annual SNP conference.
If that date is chosen, then the White Paper would follow thereon, perhaps in very late October, more probably in November, as originally planned and promised before a little variegation entered the timetabling lexicon.
Second question. Might the Dunfermline by-election have an impact on the far bigger referendum contest? Maybe, in the short term. If Labour were to over-turn Bill Walker's tiny 590 majority, then it would give them a lift. (For the avoidance of doubt, the third placed Lib Dems and fourth placed Tories will fight hard too. As, of course, will the SNP.)
Would any impact last through until September 2014? No. But this is decidedly not a helpful development, politically, for the SNP. They are glad Bill Walker has stepped down. In that sense, they welcome the by-election.
And in other terms? Wait and see.