Scottish independence: Put your questions to Alex Massie and Willie Sullivan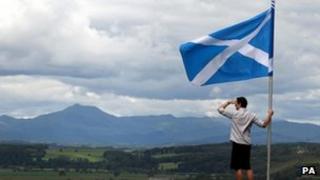 Guests Alex Massie and Willie Sullivan will be in the hot seat to answer your independence referendum questions.
They are the latest guests in a series of webcasts looking at issues surrounding Scotland's future.
One time Labour councillor Mr Sullivan is a proponent of the "common weal" approach - a vision for economic and social development in Scotland which advocates higher pay, higher total taxes and a stronger welfare state.
On their website, the advocates say: "Many people who support a common weal vision support independence, but some don't."
Spectator blogger and freelance journalist Mr Massie believes the "common weal" approach has its place in the debate on Scotland's future but is "riddled with contradictions and heroic dollops of wishful thinking".
If you have something to ask Mr Massie and Mr Sullivan, email newsonlinescotland@bbc.co.uk
Please put "Referendum questions" in the message field of your email.
Scotland's electorate will go to the polls on 18 September 2014.
Voters in the referendum will be asked the single yes/no question: "Should Scotland be an independent country?"
The interview will be published on BBC Scotland's politics website.