Clegg hits back over high speed rail criticism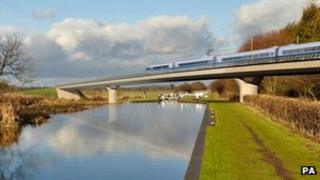 Nick Clegg has hit back at criticism from two high profile Labour MPs over plans for a high-speed rail link.
Peter Mandelson and Alistair Darling, who were both in cabinet when the line was approved, have recently come out against it.
The Deputy Prime Minister said they had "clouded the debate" over the HS2 line.
He said: "When a deal has been signed, the temptation to undermine it from the comfort of opposition can be too much for some politicians to resist."
Peter Mandelson, who was Labour's business secretary, has said he no longer supported it, while former chancellor Alistair Darling has warned of a potential "nightmare" on England's existing railways if the multibillion-pound HS2 line is built.
The project, currently expected to cost £42.6bn, intends to link London and Birmingham and potentially in a later phase extend to Manchester and Leeds, both of which are more than 200 miles south of Glasgow and Edinburgh.
North-South divide
During an address to the Confederation of British Industry's (CBI) annual dinner, Mr Clegg said the line would slash journey times to Scotland.
The Liberal Democrat leader said: "Completing HS2 will help us to tackle the North-South divide that's scarred our country for too long.
"Giving eight of our biggest cities, across the North and Midlands, the modern rail links they deserve, as well as generating over £60bn of benefits for the UK."
Addressing the criticism from former ministers "who green-lighted this idea in the first place", Mr Clegg said: "But the alternatives they suggest, such as upgrading existing lines, aren't viable answers."
"We've tested our business case rigorously and we're clear on what needs to be done to deliver this project on time and to budget.
"That is how Britain builds the infrastructure it needs, and that's how we compete, as a 21st-century economy, with a modern transport system that works to make us stronger."
The project still has cross-party support.