Scottish referendum: CBI boss Sir Mike Rake raises independence doubts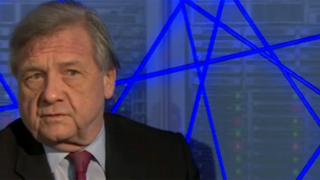 The president of business body the Confederation of British Industry (CBI) has said that Scottish independence would disrupt the economy.
Sir Mike Rake made the comment when he addressed CBI Scotland's annual dinner in Glasgow.
The Scottish government said the full details of its independence plans would come in a White Paper in the autumn.
The people of Scotland will go to the polls on 18 September next year to vote on their country's future.
They will be asked the straight yes/no question: "Should Scotland be an independence country?"
Sir Mike said the CBI was not convinced of the economic case for independence and that questions remained about its potential impact on the currency, the labour market and Scotland's place in the European Union.
The Scottish government believed that the only threat to EU membership came from Westminster.
Deputy Prime Minister Nick Clegg also addressed the CBI Scotland dinner.
He praised the work of Scottish businesses in helping the economy grow and outlined what the coalition government had been doing to fix the economy.
The Lib Dem leader went on to urge businesses to make the case for Scotland remaining in the UK.
"You drive the Scottish economy. You create the jobs and the wealth that makes Scotland a great place to live and work," he said.
"I urge businesses across Scotland to remain a voice of reason in this debate, relentless in securing honest answers about the choice Scotland has to make."
He repeated the Liberal Democrat promise that a vote against independence next September would lead to further powers for Holyrood.
And he urged the Conservatives and Labour to "get on the train" for supporting powers short of independence if there was a "No" vote.
He said: "We can't let this debate be set up as a false choice between separation on the one hand and a status quo set in tablets of stone on the other.
"Because the more pragmatic reality is, and which business accepts, is that nations must adapt and evolve.
Reacting to the speech, SNP MSP Annabelle Ewing said: "Scotland is a wealthy country, and only a 'Yes' vote in next year's independence referendum puts Scotland's future in Scotland's hands - giving us the economic powers that we badly need to build on the achievements of the Scottish Parliament and help us build a fairer, more prosperous society."