Parliamentary matters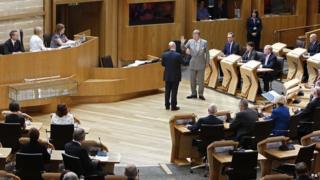 At Holyrood today, MSPs warmly welcomed a new member - and worked on plans to dispense with another.
To the warm welcome first. Cameron Buchanan was sworn in as the new Conservative MSP on the Lothian list in the place of the late David McLetchie. (It is one of the charming quirks of the list system that the voters are left undisturbed in the process.)
As Mr Buchanan himself noted, the circumstances requiring his election are very sad. However, as Mr Buchanan was far too modest to note, the new member is a kenspeckle figure who, if he runs to form, will bring both wit and wisdom to parliament.
He has been a prominent figure in Tory circles for many years - indeed, a former vice-chairman. Always charming, ebullient and affable, he has long been an astute observer of Scottish politics, albeit not, until now, as a parliamentarian.
Cameron has confronted personal challenges. In 2010, he was diagnosed with a brain tumour but has since made a recovery.
A textiles entrepreneur, he speaks five languages - but confined himself to English when taking the oath which makes him an MSP.
Now to the other matter. Somewhat blunter English is being deployed in the direction of Bill Walker in an effort to persuade him to quit after his conviction on 23 counts of domestic abuse.
The Liberal Democrat leader Willie Rennie has now written to the Dunfermline MSP advising him to "do the right thing and resign".
Others at Holyrood say there is little expectation of such an appeal succeeding, at least for now. The talk is that the disgraced MSP is declining to recognise what others would say is the reality of his position - that he cannot remain as a parliamentarian.
To be absolutely clear, there is little Holyrood can do if he doesn't go voluntarily. Walker faces a maximum sentence in the sheriff court of 12 months imprisonment.
Parliamentarians are only automatically expelled if jailed for more than a year. Those are Westminster rules which Holyrood has no power to change.
The Code of Conduct then? No, say officials, it applies to parliamentary behaviour, not private life. A recall by constituents? Again, no. There is no such provision presently in place and such a measure would, once more, almost certainly be a reserved matter.
But perhaps Holyrood can dock Bill Walker's pay if he is jailed. The Presiding Officer Tricia Marwick has instructed officials to look at that issue.
That will be discussed by parliament's Corporate Body tomorrow - with the prospect of a vote in the full chamber before Walker is sentenced later this month.
The move has to be legally watertight. And, in particular, it is stressed that the rule must be seen to apply to all MSPs - and not to be solely targeting Bill Walker.
... BLOG UPDATE
PS: And so what was the first public action by Cameron Buchanan at Holyrood? He has added his name to the long list of MSPs calling upon Bill Walker to quit.