Disgraced MSP Bill Walker could have 90% cut in salary if jailed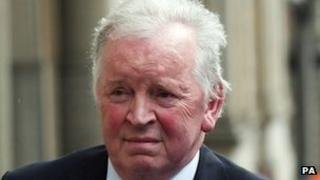 Disgraced MSP Bill Walker is set to have his parliamentary salary cut by 90% if he is jailed for his domestic abuse crimes.
Holyrood's management team, the corporate body, has recommended the move which must be ratified by MSPs.
Walker was found guilty of 23 charges. He will learn what his sentence is to be later this month.
The 71-year-old carried out the attacks against his three ex-wives and a stepdaughter between 1967 and 1995.
The maximum sentence facing Walker is 12 months imprisonment - but parliamentarians are only automatically expelled if they are jailed for more than a year.
The rules are laid down by Westminster and cannot be changed by Holyrood.
But the parliament's presiding officer, Tricia Marwick, instructed officials to examine whether Walker's salary can be stopped if he is in prison, as Holyrood may be able to make decisions on MSP pay provision without having to refer to Westminster.
In a letter MSPs, Presiding officer Tricia Marwick said: "From reviewing the core functions of a member as set out in the Scottish Parliamentary Corporate Body (SPCB) paper, we recommend that 90% of salary should be withheld for the duration of imprisonment.
"I shall therefore be seeking the parliamentary bureau's agreement to bring forward a resolution before parliament next week to amend the salary scheme.
"In recommending this course of action to parliament, it should be made clear we do not seek to encroach upon the role of the courts. Our approach should in no way be interpreted as a punishment - that is for the courts."
It has been stressed that action along those lines would not single Walker out - the rule would apply to all MSPs.
Ms Marwick said the decision should be underpinned by a number of principles, including;
salary is payable in return for the performance of functions
the move must not be motivated by punishment, retribution or censure
and the move should be proportionate, of general application, and consistent in its treatment of ordinary MSPs and those office holders and members of the government who receive a salary supplement.
A motion lodged in the Scottish Parliament by Scottish Liberal Democrat leader Willie Rennie calling on Walker to quit his seat has been signed by more than 90 MSPs.