Minister Kenny MacAskill welcomes prisoner release plan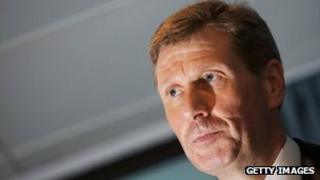 Plans to stop the automatic early release of some prisoners would target the country's most dangerous criminals, Scotland's justice secretary has said.
Kenny MacAskill acknowledged the move could be subject to legal challenge.
However, he was confident the proposed change to the Criminal Justice (Scotland) Bill would comply with the European Convention on Human Rights.
The move would affect people jailed for more than 10 years and sexual offenders serving four or more years.
Mr MacAskill spoke out the day after First Minister Alex Salmond announced the proposal as part of his government's 2013/14 legislative programme.
Currently long-term prisoners sentenced to four years or more behind bars are automatically released on licence after serving two-thirds of their sentence.
Mr Salmond said that system, introduced by the Conservatives in 1993, did "not command public confidence".
Under the proposed Scottish government changes, dangerous offenders sentenced to 10 years or more and sexual offenders sentenced to four years or more will no longer receive automatic early release.
Mr MacAskill said the move followed on from a recommendation by former first minister Henry McLeish, who chaired a commission looking at the purpose and impact of prisons.
He told BBC Radio Scotland's Good Morning Scotland programme: "The McLeish Commission said automatic early release should end, but it could only end once we had properly sorted out prison numbers."
Mr MacAskill added: "We are targeting this to those who are the most dangerous - those who our analysis shows have been convicted of the most serious crimes and who have the highest propensity for being a danger if returned to our communities."
The minister said he was confident the plan could be brought in without major challenges.
'Taken six years'
Mr MacAskill explained: "We're satisfied this is ECHR compliant, that it provides the right balance between those who have shown remorse and are being rehabilitated, but it provides an opportunity for an independent body, the Parole Board, to decide that if somebody is not showing that change and still poses a danger then they will not be released early.
"That is what our communities want, that is what our communities are entitled to expect from this government, and that is what we are going to deliver."
Scottish Conservative Party leader Ruth Davidson said that the changes would apply to 2% of offenders given a custodial sentence last year.
She added: "This is a welcome step following years of pressure from the Scottish Conservatives to tackle the scandal of early automatic release, but it does not go nearly far enough and will still result in thousands of criminals being let out of prison automatically before they finish their sentence."
Labour's justice spokesman Graeme Pearson said: "It has taken six years for the SNP to deliver on their promise to end automatic early release."