Scottish national tree consultation begins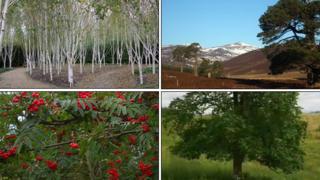 A public consultation on a national tree for Scotland has been launched.
Over the next three months the public will have the opportunity to say whether they would like a designated tree and, if so, which species.
The idea for a national tree was raised at the Scottish Parliament's public petitions committee earlier this year by campaigner Alex Hamilton.
He had also used his petition to suggest the Scots pine was an appropriate symbol for the country.
The Woodland Trust, along with a number of other environmental organisations, had backed Mr Hamilton's case.
The online consultation will set out presentations promoting the Scots pine, the rowan, the birch and the wych elm.
However, a Forestry Commission spokesman said any tree could be considered. The consultation will run until 3 December.
At the launch, Environment Minister Paul Wheelhouse said people in Scotland had a great affection for trees.
"A national tree could be a powerful symbol to help raise the profile of trees and their contribution to so many aspects of today's society," he said.
"At no time has it been more important, as some of our woodlands are currently under threat from a number of serious tree health problems."
Mr Hamilton said the Scots pine was "the most worthy symbol of our woodlands and of a modern Scotland".
However, he said the most important point was to have a national tree.
He said: "It is a statement that we in Scotland value our woodlands and think they are important. Most countries in the world have a national tree and I think Scotland should have one as well."
Mr Hamilton said there had been a lot of support for the idea.
He said: "Most people in Scotland live in cities and towns but that does not mean they are not lovers of trees.
"Where I live, Glasgow, is known as the dear green place and even people in Glasgow love to hug a tree, maybe not literally."