Funds pledge of £3m for storm-hit Scottish harbours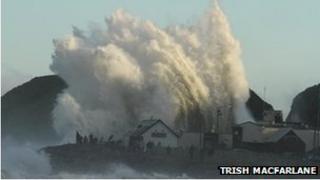 More money has been announced to repair damage caused to harbours in Scotland during winter storms.
Piers and coastal defences were battered by severe weather in late 2012 and early 2013.
On a visit to Fraserburgh, First Minster Alex Salmond announced that a further £3m would be made available to the communities affected.
The Scottish government is to hold a cabinet meeting in Fraserburgh on Monday.
The official cabinet meeting will be held at the Fraserburgh Sports and Community Centre on Monday morning.
The tour has already seen discussions in Lerwick, Hawick and Campbeltown.