Scottish independence: Treasury claims UK boosts incomes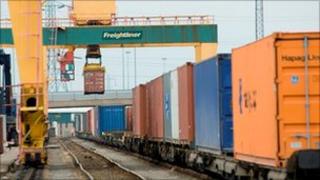 The Treasury is preparing to publish a paper which claims real incomes in Scotland will grow by an additional 4% if it remains part of the UK.
It suggests the total income figure for Scotland will be £5bn greater after 30 years than would be the case with independence.
The Treasury calculates this as being an average of £2,000 per household.
The Scottish government said the paper "ignores the reality" of the modern single market.
The Treasury paper, which is to be published later this week, claims the existence of a "border effect" between countries.
It argues borders do no necessarily have to be physical checkpoints in order to have a real impact on economic behaviour.
The analysis concludes: "Replacing the current relationship between Scotland and the rest of the UK with a relationship similar to that of Euro area Member states would create significant headwinds to Scottish growth."
The paper will be launched in Aberdeen by Chancellor George Osborne.
'Real opportunities'
The Scottish government has firmly challenged the Treasury's analysis.
A spokesperson for Deputy First Minister Nicola Sturgeon said: "A majority of people in Scotland want to see economic decisions taken in Scotland for Scotland - not by Westminster governments that Scotland did not vote for.
"With household budgets expected to fall by £1800 in the next two years as part of the UK - and at least another 4 years of cuts to Scotland's budget - it is only a Yes vote in 2014 that can deliver real opportunities for Scotland.
"These claims ignore both the reality of a modern single market and the very real damage Westminster decisions have done to Scotland's economy.
She added: "As an independent country, in a single market not just with the rest of the UK but with the European Union - a position threatened by Westminster - we will finally be able to make our own decisions, to support our key industries, our workforce and to counteract the economic imbalance caused by London-based economic policy."