Scottish Independence: Darling says UK needed in crises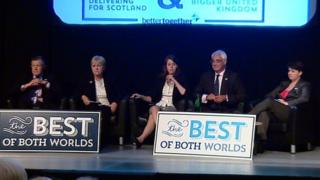 Better Together chairman Alistair Darling has said an independent Scotland would struggle to have the same diplomatic clout in dealing with international crises like Syria.
Speaking at the launch of Better Together's Glasgow branch, Mr Darling said that the referendum campaign is entering a crucial phase.
He claimed the UK carried greater influence in the United Nations.
The SNP described the comments as "crass, insensitive and parochial".
Responding to question during the launch of the Better Together branch, Mr Darling said: "Ultimately, the long term solution is going to have to be diplomatic and the UK has got far more clout in the United Nations, in the G20 which is meeting in Russia next week, than a smaller country ever would.
"I've been to lots of these meetings throughout the time I was a minister and large countries, particularly one with a reputation like ours, have clout.
"I don't think there's anyone in this room who wouldn't want to see the clout of the UK, if possible, along with other countries, trying to bring an end to the bloodshed taking place in Syria."
Mr Darling's comments have been criticised by the SNP.
Glasgow Kelvin SNP MSP Sandra White said: "How incredibly sad that the first thing Alistair Darling seems to have thought of when he saw the dreadful humanitarian crisis unfolding in Syria was how to score political points from it.
"Most people would think that basing a political speech around such a serious situation - particularly one which is ongoing - is crass, insensitive and parochial.
"Regardless of people's position on the independence debate in Scotland I have no doubt we all want to see a solution to the humanitarian crisis in Syria."
White Paper
Earlier Mr Darling warned supporters of the pro-union campaign not to become "complacent".
He said: "With a year to go and the long-awaited White Paper just weeks away we are entering a crucial phase of the referendum campaign.
"We cannot afford to be complacent for one moment, we have a big fight ahead of us."
Mr Darling accused nationalists of claiming that Scotland can leave the UK without any consequence, a policy he called "indy-lite".
He added: "Every day for the next year we will make our case that a successful Scottish Parliament backed-up by the strength of a bigger United Kingdom offers us the best of both worlds.
"Increasingly the independence debate is becoming a battle between those of us offering to continue the success of devolution versus those selling the dishonesty of indy-lite."
Party leaders
The Better Together Glasgow launch was supported by pro-union party leaders.
Conservative Ruth Davidson said: "Between now and next September, I will be joining with people right across the city from all political backgrounds to talk up the benefits of our place within the United Kingdom."
Liberal Democrat Willie Rennie added: "Some things are easier when you have your friends and family standing beside you. We are stronger when we work together."
Labour's Johann Lamont claimed that independence is a distraction from more important issues.
She said: "Scotland deserves better than what we have at the moment. We deserve better living standards, better schools and hospitals, secure jobs and a vision of what Scotland can be."
'Advantages'
A spokesman for the pro-independence Yes Scotland campaign said: "We certainly agree with Johann Lamont that 'Scotland deserves better than we have at the moment'. But why would anybody believe that sticking with a failed Westminster system that is responsible for imposing policies such as the punitive bedroom tax is the way to achieve that?"
He added: "One of the key advantages of becoming independent is to foster new, healthy and equal relationships with other countries in these isles."
Yes Scotland said its Glasgow branch was launched nine months ago.
It claimed that its "highly-successful" launch event was attended by over 700 people.