Hillary Clinton to be honoured at St Andrews University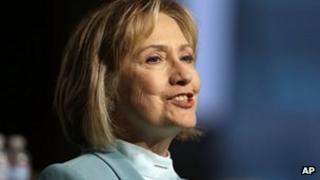 Former US Secretary of State Hillary Clinton will be honoured for her work when she visits Scotland next month.
She will address academics and students at St Andrews University before being given an honorary degree.
The visit on 13 and 14 September comes as the university continues to mark its 600th anniversary.
St Andrews principal Professor Louise Richardson said she was delighted the wife of former president Bill Clinton would be attending.
Mrs Clinton will be honoured for her efforts in championing the causes of education, human rights, democracy, civil society and promoting opportunities for females around the world.
Professor Richardson said: "We are absolutely delighted that Secretary Clinton will join us and other distinguished guests from around the world as we celebrate 600 years of university education in St Andrews.
"In addition to traditional celebrations, we will mark the occasion by doing what universities do best, bringing creative and independent thinkers together to ask difficult questions and exchange novel ideas as we explore the role of universities in the centuries to come.
"As one of the most influential women in the world, Hillary Clinton, as stateswoman, senator, and policymaker, never shied away from tackling difficult questions, working to make the world a better place, inspiring others, speaking out for the voiceless and striving ever to excel."
Mrs Clinton, who lost to Barack Obama in the contest to be the Democrat candidate for president in 2008, was US secretary of state until earlier this year.
The university has strong ties with the United States, with three of the signatories to the Declaration of Independence - Benjamin Franklin, James Wilson and John Witherspoon - having studied at or held degrees from St Andrews.
Now almost a fifth of the institution's 6,000 undergraduate students come from North America.