Scottish independence: Salmond and Moore step up campaigning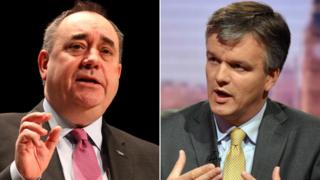 Two of the leading figures in Scotland's independence referendum campaign have been pitching their cases to voters.
In a speech in Glasgow, Scottish Secretary Michael Moore accused the SNP of saying and doing anything to play down the risks of independence.
First Minister Alex Salmond believed friendly relations with the rest of the UK could remain under a "social union".
The people of Scotland will vote in a referendum next year.
On 18 September, 2014, they will be asked the "yes/no" question: "Should Scotland be an independent country?"
Mr Moore addressed a gathering of the Institute for Public Policy Research at Glasgow University.
He said: "In the rush to de-risk independence, the nationalists are now stretching words beyond meaning and seeking to recast hard realities in a more forgiving light.
"They have even invented a new lexicon to make independence seem less than it is. Over the summer we've seen Scottish government ministers trying out the new sales pitch.
"The team who once argued that we should be 'Free by 93' now campaign for 'an interdependent United Kingdom of five unions'.
"But the Scottish National Party hasn't campaigned for 80 and governed for six to strengthen or preserve the United Kingdom.
"Its core purpose is to remove Scotland from it. That is what its activists are seeking. And that is the choice that Scots will be faced with at the ballot box next year."
Mr Salmond, who is in Argyll for a Scottish cabinet meeting, said the Union was holding Scotland back.
He stressed that fundamental rights would be protected by a written constitution after independence.
The first minister added: "Scotland is currently part of six unions. The union we want to become independent from is the political and economic union that ties us to Westminster.
"We do not want decisions on the economy, welfare, foreign affairs or military interventions made by a government we did not choose and do not support.
"The other unions - the European Union, the defence union, the currency union and the union of the crowns - are ones which we would propose to maintain. Change, certainly. Improve, absolutely. But basically maintain.
"The social union - the ties of family and friendship connecting the people of these islands - will endure, regardless of the choices of governments."