Scottish independence: Yes Scotland's 'hacked' email detailed fee to academic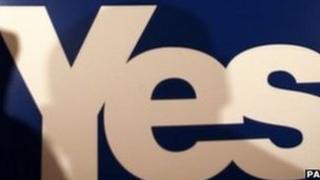 An email allegedly hacked from an account of the Yes Scotland campaign detailed payment to an academic for writing a newspaper article.
A spokesman for the pro-independence group said Dr Elliot Bulmer was given £100 for a piece in The Herald.
Yes Scotland confirmed the content of the email after what it said was "unhelpful speculation".
The pro-Union Better Together campaign is now demanding to know who else might be being paid by Yes Scotland.
Earlier this week it was revealed that the police had been asked to investigate the "unauthorised access" of an email account linked to Yes Scotland.
The organisation believed private correspondence had been accessed following a media inquiry that appeared to know internal information.
The details of the email were not initially released but Yes Scotland later revealed it was concerning correspondence with Dr Bulmer in connection with the newspaper article headlined: "A Scottish constitution to serve the common weal."
The campaigners said they had had no influence over what the academic had written.
A Yes Scotland spokesman said: "Given that the illegal breach of Yes Scotland email has become the subject of an extensive and ongoing police inquiry involving detectives from Police Scotland's Digital Forensics Unit, we have - under legal advice and at the request of the investigating officers - been unable to discuss the content of the email relating to Dr Bulmer.
"However, given persistent unhelpful speculation, we can confirm that in the course of a wide-ranging discussion with Dr Bulmer it was suggested that he, as an academic working in a private capacity, might consider writing an article on matters about constitutional frameworks based on his expertise.
"At his request, he was paid a nominal fee for the considerable time and effort he spent on it. We had no input to, or any influence over, what he wrote.
"We would now ask that this serious criminal investigation is allowed to continue unhindered by further unhelpful speculation, accusation and misinformation."
Better Together campaign director Blair McDougall said if the allegations against Yes Scotland were true, they "fatally undermined" trust in the independence campaign.
He said: "Who else received payment? Who knew that this kind of payment was being authorised by the campaign's chief executive?
"What other supposedly independent voices are being paid bungs to say what the nationalists want? What else are they willing to do to deceive the people of Scotland?"
The Open Democracy website reports that Dr Bulmer is a former Royal Navy officer and Arabic interpreter. It added that he was an Iraq war veteran.
He is currently a research director of the Constitutional Commission which was formed in 2005 to promote "democratic citizenship" and to undertake constitutional education and research.
Dr Bulmer wrote a book titled "A Model Constitution for Scotland: Making Democracy Work in an Independent State".
On his Linkedin page he details his media relations role while serving with the Royal Navy.
He has written extensively in the press, including for the Guardian newspaper. Dr Bulmer has also been featured as an expert on television, including on the BBC's Newsnight Scotland.
Tweeted link
In The Herald news piece, for which he was given the £100 fee, Dr Bulmer said: "The Scottish government has committed itself to an inclusive constitution-making process after independence. That is right and proper, but it could take years of negotiation, during which there is a risk of constitutional deadlock.
"The priority is to prepare a robust interim constitution, ready to go from independence day. Only this can guarantee democratic principles and fundamental rights until the constitution is approved."
The day the piece was published the head of Yes Scotland, Blair Jenkins, tweeted an online link.
He informed his 4,000 followers: "A brilliant must read on #indyref - Elliot Bulmer in today's @heraldscotland on priority of a Scottish constitution."
BBC Scotland political editor Brian Taylor said the article was a "relatively dry exposition of the business of setting up an independent constitution in an independent Scotland" which was "not particularly gung-ho, pro SNP" but was "certainly arguing that independence could be advantageous in this issue of constitutionalism".