Scottish independence: Seminars to focus on security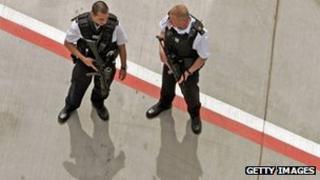 A series of seminars looking at security issues in Scotland will take place in the run up to the independence referendum and beyond.
Edinburgh University security expert Andrew Neal is leading the discussions.
He said there was "almost no academic literature" on Scotland and security and what there was focused on only defence and foreign affairs.
The seminars, the first of which start next month, are being funded by the Economic and Social Research Council.
They will look at the security priorities of Scotland and the UK and explore what might happen after the independence referendum on Thursday, 18 September, 2014.
Dr Neal said: "Even without independence, security governance is already encroaching beyond the reserved matters of defence and foreign policy and becoming part of everyday governance at multiple levels of government.
"Currently there is no security think-tank network for Scottish policymakers as there is in London like the Royal United Services Institute or Chatham House.
"Academic security expertise exists across Scotland, but has few links with the Scottish institutions of government. All of the UK's security services are based in England, such as MI5, MI6, GCHQ and Defence Intelligence.
"All the UK government centres of security policymaking are based in Westminster, like the National Security Council and Joint Intelligence Committee in the Cabinet Office and the Office for Security and Counter-Terrorism in the Home Office.
"All scrutiny and oversight bodies with an interest in security are based in London, like the Intelligence and Security Committee, select committees for defence, foreign affairs and home affairs, joint committees on human rights and the national security strategy, independent reviewer of terrorism legislation."
He added that the seminars, which will run into 2015, would invite policymakers, politicians, practitioners and academics from Scotland, the UK and comparator countries to look at the key issues.
Dr Neal believed the questions being raised were pertinent not only in prospect of a "Yes" vote but also in prospect of a "No" vote and the possibilities of longer-term constitutional change.