Levy 'damaging' Scottish red meat industry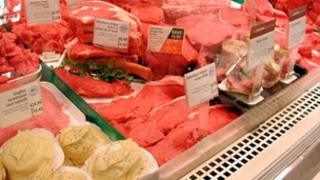 Scotland's first minister has written to the prime minister over Defra's red meat levy system, which he claimed sees Scottish farmers lose £1.4m a year.
Levies paid by farmers and processors help fund the promotional body in the country where animals are slaughtered.
With many Scottish lambs and pigs now going to English and Welsh abattoirs, this means less funding for Scotland's promotional body, he claimed.
Defra said much of the money raised was used to benefit the Scottish industry.
First Minister Alex Salmond said the issue had been raised with successive Defra secretaries of state over a number of years, most recently in June, but it had remained unresolved.
He said the issue had also been identified by the Radcliffe Review of levy bodies seven years ago.
It had suggested the levy was allocated to promotional bodies in the animals' country of birth.
In the letter, he wrote: "This practice drains around £1.4m a year from Scotland's farmers when they need that money to support promotion, research and development in our Scotch Beef, Scotch Lamb and Specially Selected Pork brands through Quality Meat Scotland.
"Scotland deserves the right to spend all the levy income it contributes to the benefit of Scottish industry.
"With extra levy revenue at its disposal, Quality Meat Scotland would be able to do even more to maximise the full economic value of the Scotch Brand, especially in untapped markets."
It has been reported that the situation was made worse following the closure of Vion's meat plant at Broxburn, near Edinburgh, late last year.
A Defra spokeswoman said: "Much of the money raised through red meat levies benefits the Scottish industry, in particular the £7m used to promote British meat to UK and export markets.
"We are looking at alternative levy options but are clear that any change must not place additional burdens on businesses."