Annabel Goldie, Jeremy Purvis and Sir William Haughey are named peers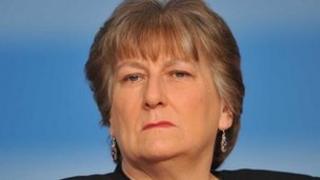 The former leader of the Scottish Conservatives has been made a working peer.
Annabel Goldie said she would take her seat in the House of Lords but that her priority would be to continue serving as an MSP at Holyrood.
Details of her new title will be released at a future date.
She was joined on the list of new peers by Glasgow businessman Sir William Haughey and former Lib Dem MSP Jeremy Purvis.
Ms Goldie led the Scottish Conservatives from 2005 until 2011 and still serves as an MSP for the West of Scotland.
Strategy advisor
She said: "I'm very honoured and regard this as a great privilege to be a member of the House of Lords.
"It is understood that my primary responsibility is to the Scottish Parliament and I am continuing as an MSP."
In addition to becoming a peer, Mr Purvis, who lost his Holyrood seat in the 2011 election, will become policy and strategy adviser to Scottish Lib Dem leader Willie Rennie.
He said: "This is a major responsibility and honour. I am very much looking forward to using it as a platform to support Willie Rennie's work in the Scottish Parliament and to advance the cause of a more progressive and liberal Scotland."
Sir William, a former director of Celtic Football Club, was knighted for services to business and philanthropy last year.
He founded a refrigeration company in 1985 and established the City Charitable Trust to bring together his charity work.
He has given Labour more than £1m since 2003.
Details of their titles will be released over the coming weeks, Downing Street said.