Scottish Independence: Labour attacks LFI group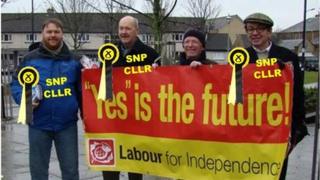 The Scottish Labour party's deputy leader, Anas Sarwar, has described the campaign group Labour for Independence as an "SNP front".
Mr Sarwar said SNP politicians and officials have appeared in campaign photographs alongside the Labour for independence (LFI) banner.
LFI was founded by Labour party member Allan Grogan.
Mr Grogan said his organisation works alongside independence campaigners from all parties and none.
One photograph, published by the ThinkScotland website, appeared to show the SNP leader of East Ayrshire council, Douglas Reid, campaigning with Labour for Independence.
Another picture, tweeted by the pro-union campaign Better Together, identified several SNP councillors from Midlothian holding an LFI banner.
The Labour party then highlighted tweets by the new SNP MSP, Christian Allard, in which he appears to offer to supply LFI leaflets.
Mr Sarwar said: "The SNP's faltering campaign is looking increasingly desperate.
"For prominent MSPs, council leaders and party officials to masquerade as Labour supporters to give a false impression about their campaign is disrespectful to ordinary Scots who want to make a decision on our future based on the facts.
"Labour for Independence appears to be nothing more than a sham and a SNP front."
Leaflets
LFI founder Allan Grogan said: "There are many instances in which non-LFI volunteers were pictured around our banner. At no time have we ever claimed these people to be volunteers of LFI."
He said members of political parties other than Labour could not be members of LFI.
Mr Grogan added: "If SNP members are handing out our leaflets it is an acknowledgement that (the) Labour vote is an important one in this referendum and they are willing to forgo party politics to help us get our message across."
An SNP spokesperson said: "The Labour for Independence group is organised by members of the Labour Party - others who support a Yes vote are perfectly entitled to campaign across party boundaries with them, including obviously SNP members.
"That is a rather better development than the Labour Party working hand in glove with the Tories in the No campaign."
Labour for Independence held a policy conference in Glasgow last weekend.
The independence referendum will take place on 18 September 2014.