Scottish independence: Dennis Canavan reopens monarchy debate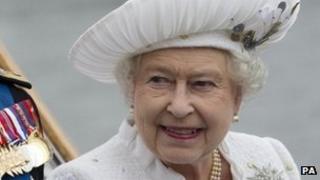 The Yes campaign chairman has reopened the debate about the future of the monarchy in an independent Scotland.
Dennis Canavan said a national referendum should be held on who should be head of state, if Scotland votes for independence in next year's referendum.
His stance is at odds with that of the SNP, which has said an independent Scotland would retain the monarchy.
Better Together said the Yes campaign seemed set on going against popular opinion.
Mr Canavan stressed he was speaking in a personal capacity.
He told BBC Scotland: "True democracy is based on the sovereignty of the people, rather than the sovereignty of any monarch, and so in an independent Scotland the people should be given an early opportunity to decide whether they want a hereditary head of state or an elected head of state."
Mr Canavan, a former Labour MP and independent MSP, said he personally favoured the latter "because a hereditary head of state is an affront to democracy and a complete anachronism in a modern 21st Century democracy".
He continued: "I have no disrespect for people who believe in the monarchy and I have nothing against The Queen personally.
"I go as far as saying that supposing there was an election for head of state and The Queen were to throw her hat - or crown - into the ring, then even I would have to admit she would probably win - at least the first time.
"I doubt very much if I could say the same about her would-be successors, but I think it is important that the people who want to build a new democracy put across their views on these matters and have respect for the basic principles of equality and democracy."
'Foolhardy'
Scottish Conservative deputy leader Jackson Carlaw said making the future of the monarchy a central theme of the independence referendum appeared to be "foolhardy".
He said: "I believe the overwhelming majority of Scots support the monarchy just as people do across the UK and just as there, this support has grown stronger in recent years.
"That Dennis Canavan, as chair of Yes Scotland, should choose to do so smacks of desperation and illustrates just how unfocused and divided the parties supporting Yes Scotland are on the key messages underpinning their campaign."
A Better Together spokesperson said: "It's almost as if the Yes campaign are going out of their way to go against popular opinion in Scotland.
"Alex Salmond can try and kid people on that the SNP support the monarchy, but Dennis Canavan represents the true views of the nationalists."