Police rule out Falkirk vote rigging inquiry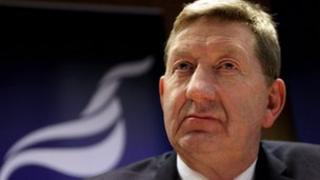 Police will not launch a criminal inquiry into vote rigging allegations in Falkirk, BBC Scotland has learned.
Police Scotland has concluded that there is "insufficient" evidence to launch a criminal investigation.
The Information Commissioner's Office (ICO) has confirmed it will now launch an investigation into the claims.
Unite has called for two activists who were suspended over the allegations to be reinstated by the Labour Party.
Labour said it would now pursue disciplinary action "as a matter of urgency".
The Conservative chairman Grant Shapps has written to Ed Miliband urging him to publish Labour's internal report into the affair. He's also called for all Labour's ongoing selection contests to be frozen, and for those on Unite's list of 40 seats earmarked for similar treatment to Falkirk to be re-run.
The party handed over an internal report to police after claims the Unite union had recruited more than 100 members in the constituency in a bid to ensure its preferred candidate would win.
But a police spokesman told the BBC: "Following a comprehensive review of all material submitted, Police Scotland has concluded there are insufficient grounds to support a criminal investigation at this time. However, should further information come to light this will be looked into."
An investigation by Labour's ruling NEC found "sufficient evidence of concern" about membership lists in the Falkirk party to place the selection process - to find a replacement for controversial MP Eric Joyce who is not standing again - under special measures.
The Conservative MP Henry Smith wrote to the Chief Constable of Police Scotland, Sir Stephen House, asking for an inquiry and suggested that Unite might have committed fraud.
The ICO investigation follows a complaint from Conservative MP Jake Berry who wrote to the Commissioner about claims that Unite had been wrongly recruiting members in the constituency.
An ICO spokesperson said: "We have recently been made aware of a possible data breach which may involve the Labour Party.
"We will be making enquiries into the circumstances of the alleged breach of the Data Protection Act before deciding what action, if any, needs to be taken."
Candidates suspended
Police say if further information comes to light, their decision not to investigate may be reconsidered.
Unite's general secretary Len McCluskey has previously claimed that the union was being "smeared" by Labour and on Wednesday said it was a "disgrace" that police had been called in.
Two Unite members - candidate Karie Murphy and the Falkirk branch chairman Stephen Deans - remain suspended by Labour.
Earlier this month, Ed Miliband said the NEC's report had shown "people were being signed up as members of the Labour Party without their knowledge. It says that bad practices were going on. It says people were being asked to sign up to the Labour Party on the condition that they supported particular candidates."
A Labour Party spokesman said: "As a result of the police decision, we will now pursue disciplinary action as a matter of urgency.
"The internal Labour inquiry found there was enough evidence to concern us about membership recruitment in Falkirk.
"We will act on this swiftly and thoroughly as we have done throughout this matter."
However, Unite welcomed the police decision, which it described as "an overdue application of common sense to the situation".
Speaking to BBC Radio Scotland Unite's Scottish secretary Pat Rafferty said: "We have broken no rules as far as the Labour Party is concerned and certainly there was no criminality we saw in this whole process.
In regards to Labour's disciplinary action he said those suspended so far "have never been interviewed in this whole investigatory process".
He added: "The whole process as far as we are concerned is fundamentally flawed in that respect.
"The parties should take the same commonsense approach as the Scottish police have taken and drop this investigation."