Scottish independence: Salmond restates pound pledge in Isle of Man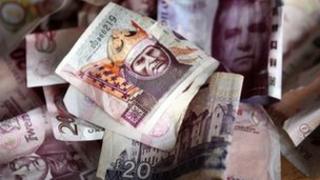 Alex Salmond has restated the case for an independent Scotland retaining the pound within a formal currency union in an address to an audience in the Isle of Man.
The first minister was speaking, at the invitation of the Manx government, at the annual Chief Minister's International Lecture.
He also attacked the UK government's case for remaining part of the union.
The UK Treasury warned against making comparisons with the Isle of Man.
The SNP has said Scotland would keep the pound following a Yes vote in the 2014 referendum, but it would have full fiscal powers, giving it control over oil and gas taxation, capital borrowing, welfare and social security, and a raft of taxes, including corporation tax.
The Isle of Man is one of three crown dependencies in the United Kingdom with the powers to pass its own legislation, despite not being a sovereign nation in its own right.
It has its own currency, the Manx pound, which exists alongside sterling.
Credit rating
In his speech, Mr Salmond said: "You don't have a formal sterling union. Instead, notes issued in the Isle of Man are backed by your own Currency Fund.
"This arrangement has brought exchange rate stability and has facilitated trade with the UK.
"For Scotland - a larger economy - we will retain the pound. We would use our sovereignty to negotiate for a formal currency union with the rest of the United Kingdom.
"Scottish bank notes would remain in the same way they do now."
The first minister also highlighted the fact that when the UK's credit rating was downgraded earlier this year, the Isle of Man's triple A status was kept intact by rating agency Moody's.
He went on to attack the UK government's arguments against independence.
"The No campaign which self describes itself as 'Project Fear' once argued that the UK's triple-A status was crucial to Scotland's economic prospects and the reason for rejecting Scottish independence," he said.
"Now that triple-A has been junked they haven't even withdrawn the leaflets which purveyed such nonsense."
Separate state
The UK Treasury said any currency comparison with the Isle of Man was "misleading and wrong".
Responding to Mr Salmond's speech, a spokesman added: "The Isle of Man is not in a currency union with the United Kingdom.
"The Manx pound is not legal tender in the UK. The Bank of England is not required to pay attention to economic conditions on the island when setting interest rates, does not have any regulatory role and doesn't act as lender of last resort to the island's financial institutions.
"The best way for Scotland to be sure of keeping the pound is by staying in the UK. As the Chancellor has said, the UK is unlikely to agree to a currency union with a separate state."