Labour Party's Falkirk seat selection row continues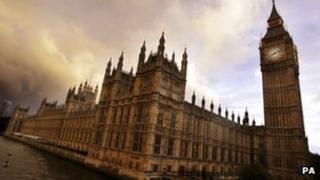 Key Labour figures have entered the row over the selection of a party candidate for Falkirk's Westminster seat.
Labour officials took charge of the process after it was alleged the Unite union had acted unfairly to get its favoured candidate chosen.
Shadow Defence Secretary and Eastwood MP Jim Murphy said he believes Unite overstepped the mark.
Fellow Labour MP, Willie Bain, said the party needed to restore faith in the selection process.
Falkirk constituency members began looking for a candidate after current MP Eric Joyce was thrown out of the party.
The former soldier was given a 12-month community order and fined £3,000 after he admitted committing an assault in a House of Commons bar last year.
At the beginning of March, Mr Joyce said he would not seek re-election at the 2015 general election.
Labour's National Executive Committee (NEC) stepped into the selection row after claims were made that Unite had encouraged its members to join Labour in order to lend their support to the union's preferred candidate.
The NEC produced an internal report which concluded that there was evidence for concern and the selection process should be taken over by party officials.
A fresh selection process will now take place and the candidate should be chosen by the end of the summer.
Only those in the party who were members by March 2012 can take part in the vote.
Mr Bain, who represents the Glasgow North East constituency and is a Unite member, said: "What we have done is said those members who will be eligible to vote were those who were members of the Falkirk Labour Party as of March 2012 and that would remove most or all of those members in respect of whom there was a question mark over their recruitment."
Unite, which is Labour's biggest union backer, insisted it had done nothing wrong, adding that it had operated "entirely within the rules".
But Mr Murphy told the BBC: "The fact that Unite are an important part of the Labour Party doesn't give them a right to behave in a macho way of doing their politics, of a way that belongs in the past.
"They need to remember they don't run the Labour Party. Ed Miliband runs the Labour Party."
At Prime Minister's Questions on Wednesday, Prime Minister David Cameron referred repeatedly to Labour's links with Unite.
He accused the party's leader Mr Miliband of being too weak to stand up to the union.