Spending Review: Boost to Scottish capital expenditure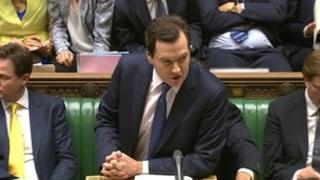 Scotland is to receive a major increase to capital expenditure as a result of the chancellor's spending review.
The Scottish government's capital spending allocation will rise by 12.9% in 2015/16, the equivalent of £296m.
Chancellor George Osborne said the Scottish resource budget in 2015/16 would be £25.7bn, a 1.9% real terms cut.
The Scottish government accused him of choosing austerity over investment in growth and jobs.
Mr Osborne has been unveiling £11.5bn of cuts in a statement to the Commons, to help reduce the national deficit.
The chancellor told MPs: "Being part of the UK means Scotland will see its capital spending power increase by almost 13% in real terms in 2015-16.
"And rightly it's for the Scottish Parliament to decide how best to use it. Devolution, within a United Kingdom, delivering for Scotland."
Mr Osborne also outlined so-called ''Barnett consequentials" resulting from reductions to department spending budgets in England, which will also provide an additional £100m in funding.
He said: "Because we have prioritised health and schools in England, this feeds through the Barnett formula to require resource savings of around just 2% in Scotland, Wales and Northern Ireland.
"The Scottish resource budget will be set at £25.7bn. And Scotland will benefit from new capital borrowing powers of almost £300m."
Public sector workers
The chancellor also announced that public sector workers for UK spending departments, including civilian workers in the Ministry of Defence and the Department of Work and Pensions, will see an end to automatic progression payments.
He added that these can be worth up to 7% per year.
Asked if he would apply this to those working for devolved services in Scotland, Scotland's Finance Secretary John Swinney said he would consider how to handle that in his draft budget for 2014/15, to be published in September.
He said it was important to "take public sector workers with us", but that he would also have a "responsible pay policy which we can afford".
'Austerity over growth'
Mr Swinney also said the chancellor had chosen austerity over investment in growth and jobs.
He added: "Westminster's economic failure means that instead of the 2.9% growth for 2013 the chancellor expected in his first budget back in June 2010, the UK economy is now forecast to grow by just 0.6% over the year as a whole.
"Today's spending review sees a further reduction to the Scottish budget, piling cuts on top of cuts and another attempt by Westminster to hide their failed economic policies behind promises of loans and borrowing far into the future.
"The UK government has slashed Scotland's capital budget by 26% in real terms since 2010/11. The cumulative impact of these cuts is worth £3.2bn removed from Scotland's economy."
But Secretary of State for Scotland Michael Moore said the chancellor's announcement was a "fair and positive result for Scotland".
'Good news'
He added: "The Scottish government has asked for additional capital resource and the UK government has delivered it. They must now use it to invest in Scotland and help the economy grow.
"This good news is coupled with the fact the Scottish resource budget will be about flat cash in 2015/16, significantly better than the reductions across the rest of the UK."
Labour's Shadow Scottish Secretary Margaret Curran said the spending review had taken place because the UK government's economic plan had "failed".
She added: "For people across Scotland, life is getting harder because we have two governments with the wrong priorities who are failing to turn things round.
"The Tories say the economy is healing, but for most families it's getting worse with prices rising faster than wages.
"And with the SNP we have a Scottish government that talks tough, but has failed to deliver what it promised to get the Scottish economy back on track and protect people from the worst of the Tories."
Spending constraints
The Scottish Chambers of Commerce argued that decisions by the UK and Holyrood governments to protect large budgets such as health from any cuts so far meant that constraints on Scottish spending were likely to continue in 2015/16.
Chief executive Liz Cameron said: "In addition, the introduction of £296m of capital borrowing powers for the Scottish government in 2015/16 will still only result in an overall annual capital budget of £3.3bn, which is equivalent in cash terms to the annual capital budget the Scottish government had before the last Comprehensive Spending Review in 2010-11.
"This investment needs to be leveraged directly to where it will make the biggest difference for the Scottish economy and to Scotland's businesses, eliminating any unnecessary bureaucracy."
'Smoke and mirrors'
The Scottish Trades Union Congress said the further significant cut in resource spend for Scotland would constrain economic recovery and lead to significant additional hardship.
General Secretary Grahame Smith added: "The chancellor continues to punish public sector workers for the sins of his friends in the City with barely disguised glee.
"Despite the smoke and mirrors, it's already clear that there's no new money for capital investment in 2015.
"Funding projects which will not happen for years through cuts in services does nothing to get the UK economy out of the rut the Coalition has determinedly created."