Scottish air link to China 'instrumental' in boosting trade, MSPs say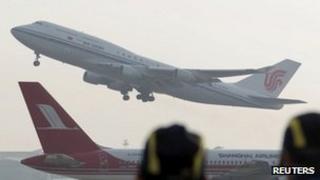 A direct air link between China and Scotland could be "instrumental" in increasing Scotland's trade and tourism, a committee of MSPs has said.
Holyrood's External Relations Committee held an inquiry into the Scottish government's China plan.
It recommended a direct air link, more Mandarin and Cantonese language lessons and strengthening cultural ties.
But it warned that mentioning China's human rights record during trade talks would be "extremely counterproductive".
Amnesty International has previously expressed concerns that western governments do not pay enough attention to China's record on capital punishment or its treatment of political prisoners.
New markets
Scotland's External Affairs Minister Humza Yousaf is heading to China for diplomatic, cultural and business engagements this week.
He said: "Scottish exports to China have almost doubled in the past five years, from £265m to £498m, which demonstrates the success of our engagement with China in opening up new markets.
"Notable achievements include securing Geographical Indication of Origin Status in China for Scotch whisky and the award of an export health certificate allowing direct exports of Scottish salmon, which have led to dramatic rises in exports to China."
Christina McKelvie, convener of the External Affairs Committee, said: "During our inquiry we heard that the Chinese market represents the same economic opportunities as America did 100 years ago and to neglect these would put Scotland at a serious disadvantage."
The SNP MSP said: "We believe a direct air link between China and Scotland would be instrumental in increasing Scotland's business trade, as well as helping develop our profile as a tourist destination."
The committee said it would welcome the more widespread teaching of Mandarin or Cantonese at all stages of education.
It also said Scottish Development International should investigate how to use its network of offices in China to provide greater support to companies unable to support their own office in the Asian country.
The committee noted that China's human rights policies have been "widely critiqued on a global scale", yet the China plan lists respect for human rights and the rule of law as one of its four guiding principles.
It also noted the advice of Angus Tulloch, Asia Pacific partner at international asset management firm First State Investments, who said involving human rights policy in any meetings with the Chinese would be "extremely counterproductive".
The committee report states: "(Mr Yousaf) referred to Mr Tulloch's point in his oral evidence, telling the committee that the first minister has invited Amnesty International and the Scottish Human Rights Commission to discussions on how best to progress the human rights agenda with China."
A Transport Scotland spokesperson said: "The Scottish government believes there is considerable potential for improving our nation's international air connections and the development of a direct air route between Scotland and China has been at the forefront of our discussions.
"We welcome the Chinese government's commitment to our common objective of establishing such a link and their help in facilitating engagement with Chinese airlines.
"We are continuing to engage with key Chinese airlines - Air China, China Eastern, China Southern and Hainan Airlines - on factors which influence airline decision making processes and determine the timing of the start-up of any new service including aircraft availability and deliveries, airport capacity and also potential incentives which could be offered."
The spokesman said Scotland has 75 international destinations, a five-fold increase over the past decade.