Fund bids to improve job prospects of deprived Scots communities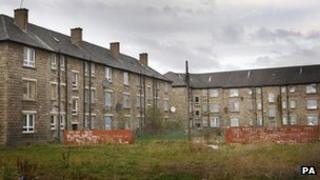 Scots businesses are being given the chance to receive cash from a multi-million pound fund aimed at improving job prospects in deprived communities.
First Minister Alex Salmond said £20m from Scotland's European Regional Development Fund (ERDF) would be channelled into the programme.
It is hoped a further £30m would come from public and third sector partners to deliver the projects.
Applications for the fund will be open until Tuesday, 9 July.
The Scottish government said that the Business and Innovation and Growth programme had been designed to "help drive forward economic recovery".
Mr Salmond, who unveiled the initiative at the eleventh National Economic Forum, said: "Sustainable economic growth remains this government's priority.
"By working with public and third sector partners, together with unions and business we can deliver on our ambition to support and mobilise talented individuals and thriving communities across the country.
"We are using all the levers and resources currently available to us to create jobs, support investment and drive down unemployment, including youth unemployment."
Successful applicants must demonstrate that their scheme will boost the employment opportunities of people living in deprived areas.
The projects are likely to get under way by the autumn this year.