Scottish independence: UK defence secrets 'could hit jobs'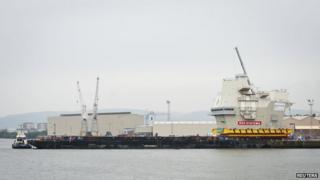 The UK government has raised further doubts about the strength of the defence sector in Scotland if it becomes independent.
It has warned "complications" may arise because MoD orders could be classified for "UK eyes only".
The issue is raised in the formal response to a Scottish affairs committee report.
The SNP dismissed "scaremongering" on defence and said talks with the industry were taking place.
A Scottish affairs committee report, issued at Westminster in April, raised concerns about the future of thousands of defence jobs if Scotland voted for independence.
Security activities
The SNP has suggested MoD orders could still be won by Scottish yards and businesses post independence.
But the UK government urged the Scottish government to set out details of the potential impact on Scottish jobs and the wider economy.
The UK response to the committee report states: "An independent Scotland would be required to develop its own national security regulations or continue to apply the Security Policy Framework and to develop the required and appropriate security infrastructures to perform the necessary security activities.
"Further complications may arise in the context of current MoD procurement and access to material classified for 'UK Eyes Only'. This material cannot be shared with a foreign country or its nationals."
It adds: "We believe that integrated defence is best for all of the UK, including Scotland.
"However, the current industrial structure and outlook may be affected should Scotland become independent.
"As such, we urge the Scottish government to consider carefully the issues highlighted in this report and clearly set out how their proposals would affect jobs across the defence sector as part of their future plans for an independent Scotland."
'Fundamentally affected'
A Scottish government spokesman said defence companies were used to working within changing international parameters.
He added: "The Scottish government will support defence companies to ensure the sector develops sufficiently to compete effectively in the international environment and will do everything to comply with all EU and international regulatory frameworks to ensure that any company based in Scotland can compete in global defence markets.
"The Scottish government is also already engaging with the sector, trade unions and trade bodies to discuss their concerns for Scottish defence industries and will continue to do so."
The chairman of the Westminster committee, Labour MP Ian Davidson, said the UK government response made it clear the defence sector would be "fundamentally affected" by independence.
SNP defence spokesman Angus Robertson said: "An independent Scotland will have a defence and security policy made expressly to suit priorities in Scotland, including respecting the wishes of the clear majority in Scotland who want to get rid of nuclear weapons from the Clyde."