Scottish government plans register of lobbyists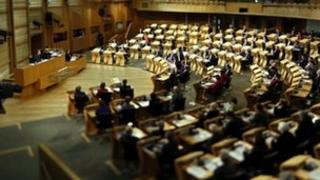 The Scottish government will introduce plans for a statutory register of professional lobbyists in the wake of concerns over the issue at Westminster.
Holyrood ministers will bring forward legislation on the subject before the next election, in 2016. They said greater transparency was needed.
Labour MSP Neil Findlay had been promoting his own bill on the issue.
But parliament minister Joe Fitzpatrick said it needed the "full weight and resources of the government".
The Westminster government had said it could change the rules on lobbying within the next year after three peers were accused of agreeing to carry out parliamentary work for payment.
Before becoming prime minister, David Cameron had described lobbying - advocacy to politicians on behalf of organisations such as business, charities and trade unions - as the "next big scandal waiting to happen".
The coalition government had promised to set up a statutory register of lobbyists, but critics said the process was taking too long to happen.
Mr Fitzpatrick said the Scottish Parliament already had strict rules around lobbying activity and he added that Holyrood had not been hit with the same kind of problems experienced at Westminster.
But he added: "Recent developments have clearly shown how important it is that we act now to put beyond doubt any question of lobbying impropriety in Scotland.
"There is still scope to take action to increase transparency in this area."
Mr Fitzpatrick said Mr Findlay's work on the issue would help inform the government's bill, adding: "The Scottish government is now persuaded that it should put its full weight and resources behind this project and will introduce legislation before the end of the parliamentary session.
"The end product must be something that everyone can stand behind."
Mr Findlay welcomed the government's decision, but added: "Given that they have previously shown no interest in it, I hope this isn't a knee-jerk reaction to certain recent events from Westminster and is a genuine attempt to see a more transparent system in operation for lobbying in Scotland.
"There has been months of hard work undertaken to prepare this bill and I hope the SNP capitalise on this and stick to the aims and objectives of the Bill that have garnered cross-party support."
Business lobby group CBI Scotland gave a lukewarm response to the plans for a statutory register.
Assistant director David Lonsdale said: "As we made clear in our submission to the consultation undertaken by Neil Findlay MSP, we do not believe that a convincing case has been made for new legislation in this area.
"If however both MSPs and MPs are determined to legislate then we would urge them to ensure a consistent approach is taken, in order to avoid unnecessary administrative complexity for those having to navigate different regimes at Holyrood and Westminster."