Poverty rates fall while average incomes also go down, say new figures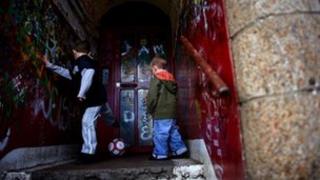 The number of people living in relative poverty has fallen slightly, latest statistics have shown.
In 2011/12, there were 710,000 (14%) individuals in poor households compared with 780,000 (15%) in 2010/11.
The figures from Scotland's chief statistician also showed there had been a fall in the average household earnings in Scotland.
Within the last two years, incomes have gone from an average of £461 per week to £436.
Deputy First Minister Nicola Sturgeon welcomed the official poverty statistics, but warned that there was no room for complacency.
She said: "We know that the UK government's welfare reforms are already having a significant impact on Scotland's children, with further damaging changes still to take effect.
"These figures take into account the environment in 2011/12, but a number of changes have been made since then.
"These measures include changes to eligibility for child tax credits and working tax credits which could, on average, mean that households will become around £700 per year worse off."
Fuel poverty
Scottish Labour's social justice spokesman, Drew Smith, said the SNP government could be doing more to tackle poverty.
He explained: "They [the SNP] could be doing more to create jobs and provide training for people seeking work, they could be building more affordable homes and addressing pay inequality by extending a living wage into the private sector through public procurement.
"They could make childcare more affordable and tackle health issues and fuel poverty."
Neil Mathers, from Save the Children, said that although the figures appeared to have dipped they were not a full reflection of the Scotland "we know and work in".
He added: "We haven't yet seen the full extent of the financial cuts or felt the full force of how they will affect poorer families. Coupled with wage freezes, price rises and the economic crisis, the hidden picture is far more alarming and ripping away financial support will push more and more children deeper into a life of poverty.
"Child poverty levels are expected to soar in Scotland over the next few years by at least 50,000, taking the total number of children who live in families that struggle daily to provide to over 280,000."
Jackie Brock from Children in Scotland echoed those remarks saying the latest figures did not represent the complexity of the issues and the "stark realities facing families whose household incomes have fallen - or will fall - as a result of welfare benefit reductions now underway, local authority cuts and wage stagnation, or reduction".