Scottish independence: 'Retain welfare set-up for transitional period'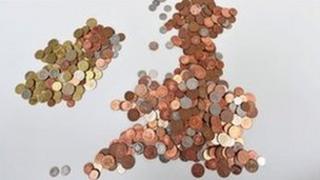 The administration of pensions and benefits in an independent Scotland should be shared with the rest of the UK for a transitional period, according to a welfare working group.
The Scottish government, which commissioned the group's report, welcomed the proposal.
But it wants the ability to reverse policies, like the housing benefit cuts which critics dubbed the "bedroom tax".
The Scotland Office said leaving the UK but keeping UK welfare "didn't add up".
The Expert Working Group on Welfare was set up by the Scottish government in January 2013 to look at the costs and delivery of welfare should there be a yes vote in the 2014 independence referendum.
Its report said the Scottish and UK governments have "a strong common interest in working together, to support each other in maintaining the delivery of benefit payments during an agreed period of transition".
A large proportion of welfare payments are processed in Scotland.
The working group said Scotland delivers almost all parts of the current UK benefits system to people living in Scotland from locations within Scotland. However, many services to claimants in England also come from Scotland.
The report stated: "Scotland provides a wide range of services to England. Some of these services are significant... and involve a claimant count measured in millions rather than thousands."
It said: "Immediately separating these services would present serious risks to the continuity of payments to people in both Scotland and England and so a challenge for both an independent Scottish government and a UK government representing the interests of the remaining parts of the United Kingdom."
The working group said the Scottish government's preliminary forecasts on the costs of benefit spending in Scotland through to 2017-18 were "reasonable", given the information available to it.
However, it recommended that, in the event of a yes vote, the Scottish government should build its capacity to forecast benefit spending and to assess the impact of changes to the system on individuals and households.
The report also went on to consider evidence taken from various organisations, individuals and communities with a close interest in the current system.
It then presented some possibilities for changes to the benefits system which it said could be considered in an independent Scotland.
The report said: "It is clear to us, however, that there is a very strong appetite across Scotland for a wider conversation about the principles and policies, opportunities and choices, which governments in an independent Scotland might wish to pursue."
Deputy First Minister Nicola Sturgeon welcomed the findings and published an initial response to the report.
She said: "People want to know that benefits - including pensions - will be delivered seamlessly from the point of independence. I therefore welcome the report's finding that almost all benefit payments to people in Scotland - including all pensions - are administered from locations within Scotland.
"In other words, the infrastructure of our welfare system already exists in Scotland.
"The report also makes the point that millions of people in England receive benefits that are administered from within Scotland. In light of that, I tend to agree with the group that a transitional period of shared administration would make sense."
New group
However, Ms Sturgeon said the Scottish government would only accept the sharing of services if that would not prevent it from reversing welfare policies it opposed, including changes to housing benefits.
She added: "I am very clear that a transitional period of shared administration would only be in Scotland's interests if it allows us, from day one of independence, to address the inequities of the current system and work towards a system that better reflects Scotland's needs and circumstances."
Scottish Secretary Michael Moore said it was not credible for Scotland to leave the UK family, keep the welfare system, but change welfare policies.
He said he was also disappointed that the Scottish government had not given more details about how it would deliver its policy of a fully separate welfare system in the longer term.
He said: "It seems that time and again we wait for the Scottish government to unveil one of their main building blocks of an independent Scotland only for questions to emerge where answers should be.
"The Scottish government seem to have their heart set on the impossible. They want to leave the UK and keep the UK welfare system. But they only want to keep the UK welfare system if they can insist upon immediate policy changes.
"I think most people in Scotland will regard this as a self-defeating contortion.
He added: "It is deeply disappointing that the Scottish government has passed up on another opportunity to spell out what sort of welfare system an independent Scotland would have and how it would be funded."
The UK government has also made available a document outlining what is says are facts and analysis about independence and welfare.
The deputy first minister has announced that a new group will now look at the medium and longer-term options for reform of the welfare system in an independent Scotland.