Scottish independence: Put your questions to Scottish Secretary Michael Moore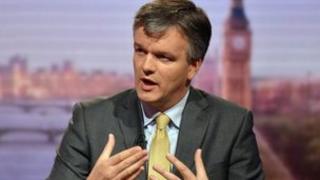 Scottish Secretary Michael Moore will be in the hot seat to answer your independence referendum questions.
He is the latest guest in a series of webcasts looking at issues surrounding Scotland's future.
In recent weeks the Lib Dem minister has helped publicise a number of papers relating to the referendum.
The latest was a Treasury analysis paper claiming that an independent Scotland could have "significant difficulties" providing protection for savers.
The Scottish government dismissed the analysis as "far-fetched" and "flimsy".
If you have something to ask Mr Moore, email newsonlinescotland@bbc.co.uk
Please put "Referendum questions" in the message field of your email.
Scotland's electorate will go to the polls on 18 September 2014.
Voters in the referendum will be asked the single yes/no question: "Should Scotland become an independent country?"
The interview with Mr Moore will be published on BBC Scotland's politics website.