Scottish Tory Party conference: Cash pledged to win more Scots seats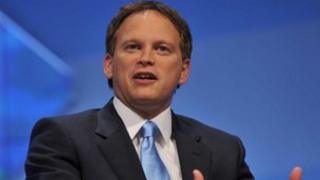 The bid to win more than one Scottish Tory seat at the next UK general election will be boosted by extra cash and resources.
At the moment the Conservatives have just one MP north of the border.
Party chairman Grant Shapps told Scottish Tory members gathered in Stirling that seats would be targeted with the money needed for the fight.
A general election is due to take place in 2015 - the year after the Scottish independence referendum.
David Mundell, representing electors in Dumfriesshire, Clydesdale and Tweeddale, is the sole Tory MP at Westminster.
Mr Shapps said: "I know we've got some pretty important battles ahead. It's not just the Union vote we've got on the horizon.
"In less than two years' time this country goes to the polls for the general election."
He told the delegates: "I want to announce that we will be targeting seats right here in Scotland, seats that will get trained campaign managers, the money and the resources needed to fight because we know we can win votes here in Scotland. I know we can do great things."
It is "not always rosy", he said, telling activists that some of the big changes the Tory-led coalition government is making are not popular.
Mr Shapps added: "I know more than anyone it's hard out there on the doorstep.
"In Westminster we're making big changes, big changes to ensure that work always pays, rebalancing our economy and slashing a third off the deficit. Some of these things aren't popular with everyone all of the time."