Scottish independence: Bid to give prisoners voting rights thrown out by MSPs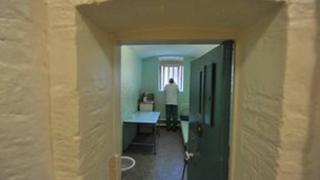 A bid by two MSPs to give prisoners the chance to vote in next year's Scottish independence referendum has been thrown out by a committee of MSPs.
The Lib Dems' Alison McInnes and Green Party MSP Patrick Harvie argued it was wrong for all prisoners to be automatically disenfranchised.
But their amendments to the Referendum Franchise Bill were defeated in the Referendum Bill Committee.
Scots will take part in the referendum on 18 September 2014.
The committee also agreed that 16 and 17-year-olds, who will receive the right to vote for the first time, would have until 10 March next year to sign up to the electoral register.
The Scottish government has consistently opposed giving prisoners a say in the vote.
In making his argument forgiving prisoners the vote, Mr Harvie told the committee: "An offender in prison is still a human being, is still a part of society, is still subject to the decisions of a Scottish government."
Ahead of the Holyrood meeting, Ms McInnes said it "seems disproportionate to deny someone serving a short sentence a say in the future of their country".
She added: "The independence referendum is unlike any democratic decision Scotland has had to make before. Where a general election dictates a country's direction for the next four years, this decision could steer Scotland's path for the next 300 years.
"Crimes must be punished. Our justice system must be seen to be effective and be effective. But if we want a prison system which rehabilitates offenders and helps them to become responsible citizens, it seems cruelly unforgiving to shut short-term offenders out of a decision which could have repercussions on their life long after release.
"Scottish Liberal Democrats will be putting these amendments before the Referendum Bill Committee with the hope of encouraging sensible debate from members.
"The UK is already out of step with the rest of Western Europe on this issue. On the biggest decision we will take in 300 years, Scottish Liberal Democrats are clear that this is a reasonable, responsible and proportionate step to take."
At present, prisoners are not entitled to vote in elections in the UK.
The Scottish government's Referendum (Franchise) Bill states: "A convicted person is legally incapable of voting in an independence referendum for the period during which the person is detained in a penal institution in pursuance of the sentence imposed on the person."
A government spokeswoman said: "The Scottish government does not agree that convicted prisoners should be able to vote while they are in prison."