Scottish independence: Scotland and UK could be 'closest of allies'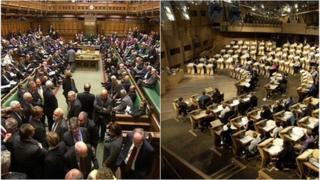 Scotland and the rest of the UK could be the "closest of allies and the best of neighbours" after Scottish independence, according to the SNP.
Deputy First Minister Nicola Sturgeon has argued that a "partnership of equals" would emerge.
In a speech, Ms Sturgeon said the existing British Irish Council could be the template for co-operation.
The Better Together campaign said that the co-operation being described already existed as the UK.
The referendum on Scottish independence will be held in September 2014.
Ms Sturgeon built on nationalist notions of a continuing social union, arguing that independence would permit "a healthier relationship" between Scotland and the rest of the UK.
She told a speech in Edinburgh that the British Irish Council system could be modelled on the Nordic Council, which brings Scandinavian countries together.
The deputy first minister, who is overseeing the referendum debate for the SNP, said this could underpin a "renewed partnership" of equals.
'Parliamentary sovereignty'
Ms Sturgeon also argued that successive Westminster decisions, such as welfare changes, showed that devolution was insufficient to protect Scotland from policies which people do not support.
Ahead of the speech, she highlighted areas where Scottish MPs at Westminster had voted against aspects of UK policy, including Trident renewal, the invasion of Iraq, the welfare benefits cap and the "bedroom tax".
"There are many flaws with the current Westminster system of government," she said.
"The first-past-the-post electoral system is deeply unrepresentative. The power of the House of Lords contradicts basic principles of democracy.
"And Westminster's doctrine of parliamentary sovereignty is incompatible with the fundamental principle that, in Scotland, sovereignty rests with the people."
A Better Together spokesman said: "There already exists a strong vehicle for co-operation across our island. It's called the UK and it works well. The idea that separation actually means co-operation is like arguing that black is white.
"The SNP should recognise that the challenges faced by families all across the UK can only be met when we work together rather than pursuing the politics of division."