Scottish independence: BBC to boost referendum coverage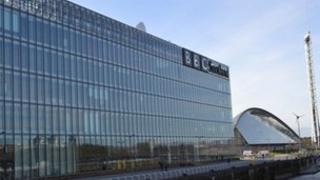 The BBC has announced a new £5m investment package to help boost its coverage of the Scottish independence referendum.
The money will go towards creating a wide range of content, including specially commissioned documentaries, ahead of the vote in September 2014.
A series of debates from across Scotland will also be broadcast.
The corporation said further investment would follow for the Glasgow 2014 Commonwealth Games.
The extra investment in referendum programming in Scotland has been made possible by savings achieved across the organisation through the Delivering Quality First initiative.
The new money will fund a wide range of coverage across radio, TV and online, on both English and Gaelic services, and will include:
A range of specially commissioned documentaries on all the main referendum issues which will be broadcast from late 2013 until September 2014.
A series of debates from across the length and breadth of Scotland on all BBC platforms which will be broadcast throughout 2014.
An up-to-the-minute live results service on television, radio and online, in English and in Gaelic.
Local debates on radio, new political programmes on Radio Scotland in the run up to the referendum, and special radio documentaries.
An enhanced online offer to provide depth and analysis, and also showcasing all the referendum coverage across the BBC.
A fully staffed referendum unit will be set up and a referendum editor appointed.
Over the course of 2014, a range of temporary roles, likely to be around 50, will work on referendum-related output.
Announcing the new money, BBC Scotland controller Ken MacQuarrie said the corporation would lead the way in reporting and reflecting an event of great significance both in Scotland and beyond.
He added: "The referendum is of huge significance for Scotland and this additional investment will ensure that audiences here get the comprehensive output they expect."
The BBC's director general Tony Hall said the new investment recognised that 2014 was of immense importance for audiences.
He said: "Both the referendum and the Commonwealth Games will be two of the most important events to happen in Scotland in many years and we know there will be huge interest in them from audiences across the UK, and indeed around the world.
"I want the BBC to be able to reflect, analyse and discuss them in as much detail as possible and this additional funding will allow us to do just that."
BBC Scotland said plans, including the additional funding for the Commonwealth Games, were in the process of being finalised and a range of new output and cultural events, in addition to the 12 days of live sport, would be announced shortly.