First Minister's Questions: Making it personal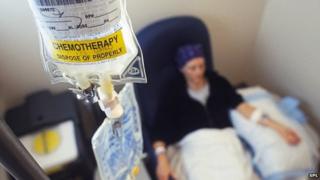 On a ward round, doctors may find themselves discussing a patient's condition - even in very general terms - while the individual concerned listens intently. Or they may step aside for a quiet chat, despite the risk that this discreet manoeuvre may alarm the patient. Or they may simply assess the case later, in private.
Such a quandary seldom confronts politicians. Today was an exception as the First Minister faced an ambush from his Labour opponent. A very effective ambush.
Johann Lamont's chosen topic was the provision of drugs for cancer. But she kept the reveal until her fourth question to the First Minister - when she disclosed that a woman, Maureen Fleming, who has been denied cancer treatment was sitting in the public gallery.
You could see the realisation dawn upon Alex Salmond. He was defending the provision of cancer medication - with a patient who feels let down sitting directly above and behind him.
Mrs Fleming has been told that a particular drug, Cetuximab, could prolong her life. But funding for the treatment has been denied. She now faces a choice between scraping together £10,000 for three months treatment - or moving to Newcastle because the drug is available, free, in England.
To be fair to Mr Salmond, he handled the situation calmly, no doubt contemplating that political challenges, even the tough ones, are as nothing compared to coping with cancer.
Ms Lamont compared the treatment denied to Mrs Fleming with the standard medication readily available, free, on prescription.
If you had a headache, she said, then treatment was free. Not so with cancer. And, once again, she ratcheted up the rhetoric, arguing that Scotland was "in danger of exporting health refugees."
SNP backbenchers - and one or two on the front bench - growled angrily at that one. But Mr Salmond knew that his tone was crucial - and he kept it controlled.
Labour, he pointed out, had backed free prescriptions. (It was also argued later that Ms Lamont's comparison was bogus, that painkillers are only prescribed for long-term, acute conditions - not a passing headache.)
Labour, he also noted, had backed Scotland's balanced approach to the provision of drugs - and not the cancer drugs fund in England. Plus that fund had been subject to criticism and was due to end next year.
These were, he noted, hugely difficult issues which had been reviewed. There was, he added, always room to improve.
With Ruth Davidson, the Tory leader, the topic turned to Europe - and the disclosure on BBC Newsnight Scotland that Scottish Ministers had now received legal advice on the issue of accession to the EU by an independent Scotland.
Ms Davidson challenged him, in vain as it turned out, to disclose the advice - and said the whole affair was becoming an "embarrassing pantomime". It was all just too easy for the FM.