Scottish independence: Sturgeon says taxes would not rise to pay welfare bill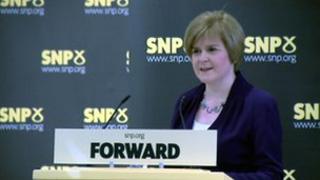 Taxes would not have to rise in an independent Scotland to pay for the SNP's welfare proposals, Deputy First Minister Nicola Sturgeon has insisted.
The minister was speaking ahead of a speech she will make to yes campaign activists in Glasgow.
She said former Labour PM Gordon Brown's comment that taxes would have to rise was "preposterous".
The Fife MP was also in Glasgow to unveil the United With Labour campaign against independence.
The group is aiming to distance itself from Tory and Liberal Democrat colleagues in the pro-Union Better Together movement.
The anti and pro-independence events took place at the start of 70 weeks to the referendum on Thursday, 18 September 2014.
Speaking on BBC Radio Scotland's Good Morning Scotland programme, Ms Sturgeon said: "I do accept that we have work to do - the point I am making is that I believe there is a majority to be won for independence if we can persuade people that independence opens the door to a better Scotland, to a fairer Scotland and a more prosperous Scotland."
She added that part of making Scotland better would be to change the welfare system in an independent Scotland.
Ms Sturgeon said the universal credit system being introduced by the Tory/Lib Dem coalition at Westminster discriminated against women.
She explained: "We would change that so we are making sure that women's independence is respected."
The minister said the government would lay out reform of the system as the referendum date got closer.
But she admitted that not "everybody would be better off". Ms Sturgeon believed it was important to focus on encouraging people into work.
Asked if taxes would have to rise to pay for welfare in an independent Scotland, Ms Sturgeon told Good Morning Scotland "no".
She added: "I heard a clip earlier from Gordon Brown saying that - that is preposterous. We have a situation in Scotland right now where our financial, fiscal situation is stronger than the UK as a whole.
"That would be the starting point of independence. Scots per head of population have contributed more tax than people across the rest of the UK - we pay and contribute more tax to the UK than we receive in terms of our share of UK spending."
In her speech, Ms Sturgeon said that people would vote yes in the referendum if they could be convinced Scotland could be a wealthier and fairer country.
The SNP plans to make a series of policy announcements over the coming months which will demonstrate how this can be achieved, she said.
The party has already pledged to scrap the so-called bedroom tax should Scotland vote yes.
'Out of touch'
Ms Sturgeon said the SNP would move away from single household payments.
She told the gathering: "The new universal credit system discriminates against women. It undermines the independence of women. Unlike the current system, which makes payments to individual claimants, it will be paid in one single household amount which will, more often than not, mean to the man in a household."
Ms Sturgeon said the universal credit reduced the incentive to work for second earners in a household, who she said would usually be women.
She added: "When a woman, whose partner already works, gets a job she will gain very little in return. Her marginal tax rate will be upwards of 60%.
"It is no wonder that universal credit has been described as reinforcing the notion of the male breadwinner, a concept that is outdated and totally out of touch with the reality of many modern families.
"So, I can confirm today that we would move away from single household payments and give women back the ability to receive support in their own right.
"And we would equalise the earnings disregard between first and second earners, making work more attractive for women, more rewarding for women and more likely to lift children out of poverty."
During her address she made a call for political unity when she said that "yes or no, we all care about the future of this nation".
Ms Sturgeon added: "We have different views on how Scotland should move forward. But the day after the referendum, whatever the outcome, we will move forward together.
"I have no doubt that, if Scotland votes yes, those on the no side - elected representatives like Johann Lamont, Ruth Davidson and Willie Rennie - will be on Scotland's side, part of the team who will negotiate our independence. And Team Scotland will be stronger as a result.
"So, it is with an eye firmly on the day after the referendum that I say this to both sides of the campaign."