D'oh! FMQs time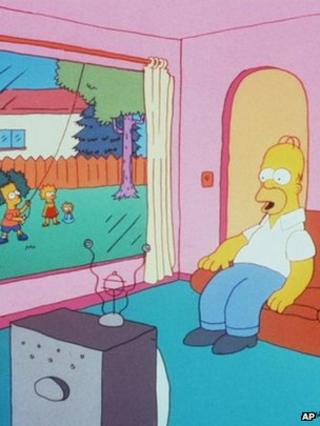 In the long Scottish winter, which faltered briefly on Tuesday this week, there is a constant search for innocent merriment, for ways to pass the time and entertain the offspring. Cards? Conkers? Karaoke?
Today, at Holyrood, a new suggestion emerged. A perfectly simple game, one you can all play at home. You simply name an MSP - anyone, doesn't matter - and decide which character from "The Simpsons" they resemble.
Willie Rennie got the game going today. He compared the First Minister to Homer Simpson. Both, he said, took the view that if a thing was hard to do, then it wasn't worth doing in the first place.
The justification for this? Mr Rennie was trying - yet again - to persuade the First Minister to emulate the UK government in enhancing nursery provision for two year olds.
Alex Salmond seemed to find the whole thing hugely amusing. Perhaps he appreciated the Rennie wit. Perhaps he plans to play the Simpsons game in Cabinet - and was already thinking of names.
Or just perhaps he had spotted that Mr Rennie's colleague, Nick Clegg, has now voiced considerable doubts about the UK government's childcare policy. You know, the government in which he is deputy Prime Minister.
Hospital trolley
The more Mr Rennie persisted, the more the First Minister chortled. "This is Kamikaze!!", he opined at one point.
Unabashed and smiling broadly, Mr Rennie said he had anticipated that the First Minister would expect him to steer clear of childcare. So that was it! A double bluff! Dashed cunning! Montgomery Burns, step aside.
Earlier, the Labour leader Johann Lamont has also pursued a persistent narrative - to the effect that the SNP's aims of independence are airy fantasy by contrast with what she argued were the grounded concerns of people in Scotland.
Her particular topic was time spent waiting in Accident and Emergency - which, she suggested, was being prolonged, according to the figures. Ms Lamont then deliberately prodded the SNP benches by arguing that Mr Salmond cared little for hospital patients by contrast with SNP slogans.
As the Nationalists protested loudly, Ms Lamont offered a new slogan - to the effect that Scotland is on a hospital trolley while the independence campaign is in intensive care.
OK, it was contrived. Ok, it was choreographed. But, on the day, the overall attack was effective. To the extent that Mr Salmond was offered advice simultaneously from the Health Secretary Alex Neil and his predecessor in the post, Nicola Sturgeon.
Human rights
They leaned over towards Mr Salmond, like two consultants discussing a diagnosis. In the event, Mr Salmond proved well able to rally and mount a defence. The SNP had protected health spending (unlike, he said, Labour in Wales); there had been a specific initiative to bolster A&E; individual problems were investigated; and, overall, patient satisfaction was on the up.
For the Conservatives, Ruth Davidson also pursued a familiar narrative, that of sentencing. On this occasion, she cited the case of Thomas McCulloch - who had been released on parole after earlier challenging a whole life sentence under European human rights legislation.
In certain cases, she said, life should mean life. She acknowledged that there could not be retrospective action but she challenged the First Minister to act to prevent any such cases in future.
Mr Salmond noted that the rules on parole had been drawn up by a Conservative government - and were binding upon Ministers. He said that he was willing to listen to precise proposals if Ms Davidson advanced them. Ms Davidson has now contacted the Justice Secretary with a view to doing just that.