A&E waiting times 'treble', claims Labour's Johann Lamont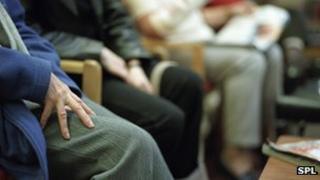 The number of patients left "languishing" in hospital A&E units has more than trebled in some parts of Scotland, according to Labour.
Party leader Johann Lamont accused First Minister Alex Salmond of not caring about the issue.
She raised the matter during First Minister's Questions at Holyrood.
Mr Salmond told her that his government had increased resource spending for the NHS despite "extraordinary financial pressure".
Ms Lamont illustrated her concerns about A&E waiting by pointing to the case of 84-year-old John McGarrity who was said to have spent eight hours on a trolley in a corridor at Glasgow's Western Infirmary.
She added that Freedom of Information requests made to health boards across Scotland showed "the number of people languishing in A&E is increasing".
Ms Lamont said: "In John McGarrity's area of Glasgow, the number of patients who waited over four hours to be seen has more than trebled, going up from 10,100 in 2009 to 31,700 this year.
"Let's look across Scotland. In NHS Lanarkshire, the health secretary's own back yard, the number of patients waiting more than four hours in A&E has also more than trebled.
"In Grampian, the first minister's own back yard, there was a 1,300 increase in patients waiting more than four hours in A&E compared to last year."
Mr Salmond told the opposition leader that the increased NHS resources by his government would not have happened under Labour.
The first minister also highlighted £50m of funding announced by Health Secretary Alex Neil earlier this year to try to shorten emergency treatment times and improve patient care.
This action was the "correct response to pressures we have seen over this winter" in the health service, he said.
The figures given to Labour show that in Greater Glasgow and Clyde NHS in 2012-13, patients waited in A&E longer than the four hours in 31,747 cases, up from 10,123 in 2009-10.
Not all health boards provided Labour with information.
In Grampian the number of breaches of waiting time limits almost doubled between 2010-11 and 2012-13, rising from 2,554 to 5,010.
In NHS Lanarkshire the number went from 3,204 in 2009-10 to 10,404 in 2011-12.
'Improving overall'
Ms Lamont asked Mr Salmond during First Minister's Questions: "Can the first minister tell me does he know if the number of people left on trolleys is getting better or worse?"
Mr Salmond insisted that the "situation in terms of treatment in the National Health Service overall is improving".
He added: "On individual cases where treatment is less than satisfactory, of course they are looked at seriously, of course they are taken into account.
"But Johann Lamont, in pursuing these individual cases, should not deflect from the case that overall treatment - in terms of the times waiting for treatment, in terms of the efficacy of treatment, in terms of the number of people being treated - is improving in the National Health Service.
"I think that's an enormous tribute to to the staff and commitment of our National Health Service in what are inevitably difficult times."