Put your referendum questions to Scottish political journalists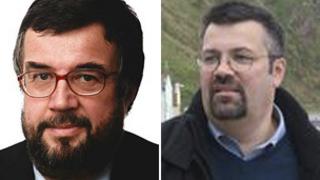 Two Scottish political journalists will be answering your independence questions and giving their opinion on the referendum debate so far.
Alan Cochrane from The Telegraph and Andrew Nicoll from the Scottish Sun will be in the spotlight for the latest in a series of webcasts looking at Scotland's future.
If you have something to ask Mr Cochrane and Mr Nicoll, email newsonlinescotland@bbc.co.uk
Please put "webchat questions" in the message field of your email.
Both men have written extensively on the forthcoming referendum and the issues surrounding it.
Mr Cochrane, who has covered politics for a number of decades, writes for the unionist-supporting Telegraph.
Mr Nicoll, who has worked for a number of Scottish publications and is an established author, writes for Scotland's biggest selling newspaper The Sun.
It supported the SNP's election bid in 2011 but believes it is "far too early" to say if it will back independence or support the UK.
Scotland will go to the polls on 18 September 2014 to vote on whether the country should become independent.
Voters in the referendum will be asked a single yes/no question: "Should Scotland be an independent country?"
The interview with the two journalists will be published on BBC Scotland's politics website.