Planning rules reform could see wind farm ban in scenic Scotland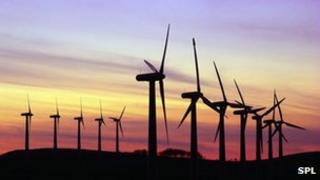 A revamp of planning rules in Scotland could see wind farms being outlawed in the country's national parks and designated scenic areas.
Planning Minister Derek Mackay is also proposing to locate turbines further away from cities, towns and villages.
The National Planning Framework and Scottish Planning Policy also pledge to revive Scotland's town centres.
Mr Mackay said he now wanted to hear views from members of the public about the draft plans.
The changes would affect a range of sectors over the next three decades, including transport, energy and infrastructure.
Within the plans, ministers have set out their priorities on where important developments should take place.
They want to see carbon capture and storage schemes built in Peterhead and Grangemouth.
In addition, there are hopes of developing the aerospace sector at Prestwick Airport and its adjacent enterprise area.
Mr Mackay said: "Scotland needs a planning system that has, at its heart, the overriding principle of delivering sustainable economic growth in order to maximise the country's attraction to investors and visitors in a global economy.
"We want future planning decisions to give significant weight to the economic benefit of proposed developments, particularly the creation of new jobs."
He added: "By providing a clear vision, the proposals will be used to guide future development that will help Scotland achieve its ambitious renewable energy targets and also increase protection for our country's most environmentally important areas."
The minister insisted that major new developments, such as leisure facilities and shops, should be in town centres "wherever possible".
In all, there are 14 proposed national developments.
They are:
Onshore infrastructure for offshore renewable energy
Grid infrastructure enhancements
Baseload capacity at existing sites: Longannet and Cockenzie
Carbon capture and storage at Grangemouth and Peterhead
National cycling and walking network
Metropolitan Glasgow strategic drainage plan
Central Scotland green network
Dundee Waterfront
Ravenscraig
Aberdeen Harbour
Grangemouth investment zone
Freight capacity on the Forth
High speed rail
Airport enhancements at Aberdeen, Edinburgh, Glasgow, Inverness and Prestwick
In relation to wind farms, the proposals include strengthening environmental protection in the 31% of Scotland covered by the wildest and most scenic land, including no wind farms in the 19% of Scotland covered by National Parks and National Scenic Areas.
The Scottish Tories gave a "cautious welcome" to proposals to limit the building of wind farms in certain parts of the country.
However, they said that although about one-fifth of the countryside may be protected by the proposed guidelines, there was no commitment from the SNP to reduce the overall number of turbines.
Scottish Conservative MSP Murdo Fraser, convener of the Scottish Parliament's energy committee, said: "This announcement is in effect an admission by the Scottish government that areas of scenic beauty are not compatible with wind farms.
"Unfortunately, this concession comes too late for many communities, and is utterly insincere for those who won't be protected by this."
Director of policy for Scottish Renewables Jenny Hogan said onshore wind was "absolutely key" to meeting Scotland's climate change and renewable energy targets.
She believed that excluding large areas of the country suitable for wind farms could potentially slow progress to achieving those objectives.
Ms Hogan added: "Scotland is known across the world for its beautiful landscapes and dynamic renewable energy industry and the Scottish government has to balance both of these priorities.
"Ultimately decisions over where wind farms can and can't be built are for democratically elected politicians both locally and nationally.
"It is important that the consultation on the National Planning Framework and Scottish Planning Policy brings greater clarity to all those concerned with making decisions about Scotland's landscapes and energy needs."
The Scottish Greens warned ministers to be careful that the planning guidelines did not risk Scotland's carbon reduction and renewable energy targets.
Patrick Harvie MSP, co-convener of the Scottish Greens, said: "Steering developments away from important landscapes and habitats must be balanced against the need for a transition to a sustainable society."
The director of CBI Scotland, Iain McMillan, welcomed the government's emphasis on "jobs and the economy".
He added: "A good and responsive planning system is so important to the success of Scotland's economy and we look forward to working with Scottish ministers during the consultation period."