Aberdeen SNP MSP Brian Adam dies aged 64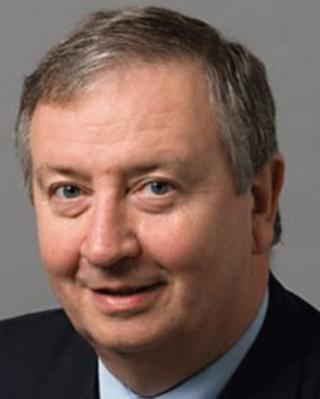 The Nationalist MSP for Aberdeen Donside, Brian Adam, has died at the age of 64 after a battle with cancer.
The trained biochemist served as a councillor in the north east of Scotland before being elected to the first Scottish Parliament in 1999.
Mr Adam, who was a Mormon and keen Aberdeen football fan, was briefly a minister for parliamentary business in Alex Salmond's second government.
The death of the father-of-five will trigger a by-election in Aberdeen.
In a statement, his family said: "Brian had a hard-fought battle with cancer, but passed away peacefully during the night at home.
"We would like to thank Brian's colleagues and constituents for their huge support over this challenging and sensitive period."
'Outstanding position'
First Minister Alex Salmond said Mr Adam had been an "exceptional" MSP.
The SNP leader said that as chief whip, Mr Adam had been one of the "crucial people" who sustained the minority SNP government between 2007 and 2011.
"Of course his greatest service was to the people of Aberdeen for a quarter of a century - first as a councillor and then as an MSP," Mr Salmond said.
"I'm proud to say I've known and admired him over that entire period as an outstanding politician, a fine human being and a dear friend.
"My condolences go to Brian's wife Dorothy and his five children - Neil, Jamie, Sarah, David and Alan - and the wider family at this very difficult time."
Scottish Liberal Democrat leader Willie Rennie described Mr Adam as a "compassionate and decent man" who would be "dearly missed" at the Scottish parliament.
"We are all deeply saddened at the passing of Brian Adam, who served the parliament, his party and his community well," he said.
"With a career in science before politics, he was passionate about advancing the cause of science in parliament.
"Brian was a hard-working and conscientious MSP who had friends across the chamber at Holyrood."
The Labour MP for Aberdeen South, Dame Anne Begg, also paid tribute to the "hard working" MSP.
She said: "If you were to have a political opponent, Brian was the ideal one. He was always polite and charming. Although we were from different political parties, we got on well.
"Brian always worked hard for his constituents and continued to do so despite his obvious illness."