Scottish Labour conference: Deputy leader Anas Sarwar in attack on SNP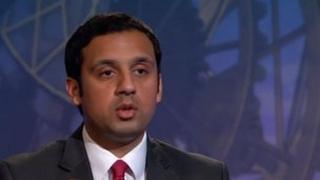 The deputy leader of the Scottish Labour Party has attacked the SNP in his speech to conference.
Anas Sarwar accused First Minister Alex Salmond of being ready to "do anything and say anything" in his bid to gain independence next year.
Delegates at the event heard from Scottish leader Johann Lamont and UK leader Ed Miliband.
The three-day Inverness conference closed at lunchtime with the singing of the Red Flag.
Key conference speeches have been focusing on SNP government plans to hold a referendum on Scottish independence on 18 September next year.
Mr Sarwar told the conference that Mr Salmond was engaged in a game of "constitutional Blankety Blank" in that, if he does not know the answer to a point, he will fill in the gap with a guess or an assertion.
He said: "A few weeks ago in this hall Alex Salmond gave us all his usual bluster, reused all his usual lines and showed us he cares more for his legacy in the history books than he does the future of Scotland.
"Contrast that to yesterday when we heard - and felt - the emotion, the passion, the humility of our leader."
The MP went on: "You are the beating heart of the Labour family.
"A family that knows when to stick together, that when we come together we not only win together, we deliver together."
Mr Sarwar insisted that it was "very clear" to him that the SNP would say "whatever you want to hear, do whatever it takes" to get the yes vote for independence.
He added: "Not for them a debate based on fact. Not for them a debate rooted in reality or honesty.
"For them, a debate based on telling you what you want to hear to win your vote.
"We are used to them making it up as they go along, but they are not even any good at that anymore.
"Like some bizarre form of constitutional Blankety Blank, they make up any answer to fill in the space."