Protesters stage anti-Trident blockade at Faslane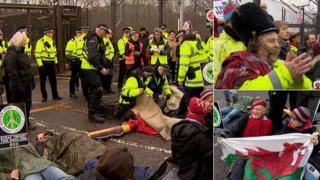 Anti-nuclear protesters chained themselves together at the gate of the Faslane naval base on the Clyde which is home to the UK's Trident weapon system.
The blockade was part of action calling on the UK government to scrap plans for Trident renewal.
Police Scotland said 47 people had been arrested.
The Faslane blockade follows a march in Glasgow at the weekend organised by the Scrap Trident Coalition.
UK ministers are due to decide on the issue of Trident renewal in 2016.
Day of action
Police said about 250 activists gathered at the gates of the Argyll naval base on Monday morning.
About 20 people, in pairs or in groups of three, chained their arms together inside sections of drain pipes and other plastic tubing and lay down on the road in front of the north gate, while eight other people did the same at the south gate.
Police issued a warning to the group at the north gate then officers started using cutting equipment to separate them.
A total of 32 women and 15 men have been charged with alleged offences such as breach of the peace and resisting arrest, police said.
Leonna O'Neil, 27, who has spent the last two and a half years living at the Faslane peace camp, told BBC Scotland: "This is part of three days of Scrap Trident action.
"Today is about reaching out to a new generation," she said. "There are a lot of young faces here and a lot of people who have never done this kind of thing before."
The Faslane blockade is said to be one of more than 100 similar protests in dozens of countries in what is a global day of action against military spending.
Patrick Harvie, Green MSP for Glasgow, was also at the protest.
He said: "We're actually finally on the verge of being able to do something about it.
"If Scotland decides next year to take control of its own defence and foreign affairs policy, we will be able at last to consign Trident to history and make Scotland a force for peace in the world."