Scottish reoffending tackled in £7.7m scheme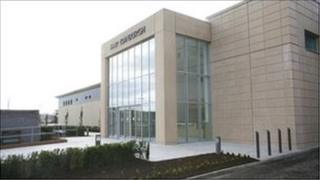 The Scottish government is to allocate almost £7.7m to a scheme intended to reduce the country's reoffending rate.
The money will go towards establishing a national network of mentoring schemes, which will target prolific offenders who are at risk of committing more crimes.
They will be given one-to-one support, provided by about 130 mentors, to deal with their problems.
Crime in Scotland is at a 37-year low, but reoffending rates remain high.
The initiative aims to reduce reoffending through mentoring projects in which prison staff, social workers and charities prepare inmates for release.
It will be introduced to every prison in Scotland.
On release, offenders will be offered further help in finding somewhere to live, accessing medical care and claiming benefits.
The investment - the latest round from the Scottish government's Reoffending Change Fund - will be split between six projects across the country over the next two years.
Some £2.7m will go to a partnership of voluntary and public organisations led by Sacro to work with female offenders, with a further £2.9m for a partnership led by the Wise Group to undertake mentoring with prolific male offenders. Each of these programmes will be delivered across Scotland.
The remainder of the money will go to:
Tayside Council on Alcohol - £311,270 to build on their work with women and persistent male offenders in Dundee, Perth and Kinross, and Angus
Action for Children and Barnardo's - £1,267,751 to work with young prolific male offenders in East Ayrshire, Renfrewshire, Inverclyde and Highland
Includem - £374,399 to work with problematic young offenders in Greater Glasgow
Voluntary Action South Lanarkshire - £179,742 to work on mentoring and employability with offenders in that area.
The re-conviction rate for offenders under the age of 21 in Scotland is currently 36.1%.
'Younger offenders'
Announcing details of the funding allocations on a visit to Edinburgh Prison, Justice Secretary Kenny MacAskill said that, without the right support when they were released from prison, too many offenders were ending up back behind bars.
He said: "We need to break that cycle so that offenders make a more meaningful contribution to society, enter a life free of crime and stop our communities suffering from the impact of their repeat offending.
"This funding will help six partnerships expand or set up mentoring schemes across Scotland to improve throughcare and support for younger offenders leaving prison and in the community."
This is the second tranche of funding from the Reducing Reoffending Change Fund, which was established last year.
In total, £10m will be allocated between 2012 and 2015 to support mentoring projects, of which £7.5m comes from the Scottish government, £2m from the Robertson Trust and £500,000 from the Scottish Prison Service.
Scottish Conservative chief whip John Lamont said the Scottish government should "focus on ending automatic early release, which would not only keep the public safer but increase the prospect of a prisoner completing their rehabilitation".
Jenny Marra, of Scottish Labour, said the best way of preventing someone reoffending was to improve their training and education and getting them off drugs while in prison.
She added: "Ensuring that someone leaving prison has a home to go to is essential, but it will come as a surprise to many that some very basic preparations for offenders aren't already in place."