Scottish independence: Sun newspaper says 'far too early' to choose yes or no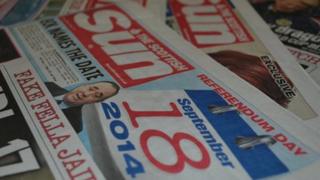 The Scottish Sun has said it is far too early to decide which side to support in next year's independence referendum.
Voters will go to the polls on Thursday, 18 September, 2014, to decide on Scotland's future.
A Sun spokesman said editorial and not corporate considerations would determine the newspaper's decision "nearer the time".
The statement came after media reports said The Sun would not be backing Scottish independence.
The Independent newspaper claimed on Monday that a senior boardroom source at The Sun's parent company, News International, said: "The Scottish Sun will not be backing the SNP on independence. We will have a neutral stance."
It went on to say that the stance was a "significant blow to Alex Salmond's attempt to close the gap on the current substantial pro-union lead".
However, in a statement to BBC Scotland on Tuesday, a spokesman for The Sun said: "It is far too early to decide what stance the Scottish Sun will take on the independence referendum late next year.
"Editorial - not corporate considerations - will determine that decision, nearer the time."
Last February, the boss of News International, Rupert Murdoch, put on record his admiration for Scotland's first minister.
On his Twitter feed he said Mr Salmond was clearly the "most brilliant politician in the UK".
He also went on to signal his support for Scottish independence, tweeting the message: "Let Scotland go and compete. Everyone would win."
The Sun, which is Scotland's biggest selling newspaper, switched from outright opposition to the Scottish National Party before the 2007 election to supporting the party at the election in May 2011.