Scottish independence: Banking experts say 'go for Scottish pound'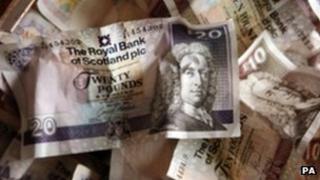 Two banking experts said an independent Scotland would have greater control over its finances with a separate Scottish pound.
But Rod MacLeod and Hamish Patrick from law firm Tods Murray admitted it could be a politically unpopular move.
The Scottish government insisted it would keep sterling in a formal currency union, assuming independence.
Earlier this year, economist Prof John Kay said Scotland should be prepared to adopt an independent currency.
The Tods Murray pair said the rest of the UK would be "unlikely" to reject a currency union and while it would be "a difficult and complex undertaking", it would not be impossible.
It may also be in the UK's interests to bail out Scottish banks, they added.
Mr MacLeod and Mr Patrick wrote: "Whilst some would view issuing a new currency as a high-risk alternative due to the inevitable uncertainty over the new currency's exchange value on the international money markets, if Scotland issued its own currency it would at least guarantee a greater degree of fiscal autonomy than under the other options.
"An independent Scotland's size and reduced economic power on the international stage (when compared to the rest of the UK) would not necessarily preclude a successful currency in the long run - if one looks at nation states such as Switzerland or Singapore.
"However, on balance, it appears unlikely that the Scottish pound would be a popular option in Scotland in the short term as market confidence in any new currency is likely to be affected by the ongoing global economic crisis."
Scotland may not have much more influence on monetary policy in a currency union than if it just unilaterally adopted sterling, the authors suggested.
They added: "If an independent Scotland keeps the pound, there needs to be an appreciation that, at best, Scotland will have limited control over monetary policy as the junior partner in any currency union or even less influence if a currency pact is rejected."
The Bank of England could impose checks and balances on Scottish fiscal policy, debt, deficit, taxation and public spending, which "could amount to a loss of fiscal autonomy" for Scotland.
Voters in Scotland will go to the polls on 18 September next year to decide whether their country should become independent.
Central bank
A spokesman for Finance Secretary John Swinney said: "We welcome this contribution to the debate. It will be in the best interests of both the Scottish and UK economies for an independent Scotland to continue to use sterling, as part of a formal monetary union.
"That is why we established the Fiscal Commission Working Group whose comprehensive report set out detailed proposals for a currency union, including the merits of a shared central bank, and putting in place a fiscal sustainability agreement for both governments.
"This proposal would ensure deficits do not diverge significantly as part of a formal monetary union, but will also ensure an independent Scottish government has the full fiscal and economic freedom to vary tax and spending to deliver economic growth and to serve the best interests of the Scottish economy."