Scottish government says law to prevent 'bedroom tax' evictions is unnecessary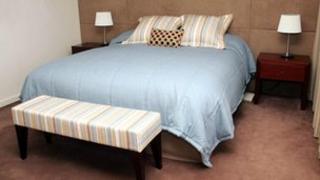 The Scottish government has rejected Labour's call for emergency legislation to prevent tenants being evicted as a result of arrears caused by the so-called "bedroom tax".
Under benefit rule changes, people in social housing who are deemed to have too much living space could lose money.
Deputy First Minister Nicola Sturgeon said legislation would not provide any additional protection to tenants.
She said no SNP-led council would evict tenants affected by the rule change.
The Scottish government has also told councils and housing associations that tenants who genuinely cannot make up the shortfall created by the bedroom tax "should be protected from eviction", Nicola Sturgeon said.
The UK government has argued the changes to the welfare system will help cut the £23bn annual bill for housing benefit, free up more living space for overcrowded families and encourage people to get jobs.
The new rules, which come into force on 1 April, will affect housing benefit which is paid to less well-off tenants to help with rent.
Families deemed to have too much living space by their local authorities will receive a reduced payment.
It has been claimed as many as 95,000 people in Scotland may lose some of their housing benefit. On average they could face a cut of between £9 and £12 a week.
Council shortfalls
At the SNP's conference last weekend, the first minister promised that no SNP-led council would evict tenants because of arrears caused by these changes.
But Scottish Labour wanted ministers north of the border to go further. It said Holyrood had the power to make it impossible to use "bedroom tax" arrears as a reason for eviction.
In effect, Labour's proposal would mean there would be a compensation scheme to make up any shortfall councils are facing.
The housing charity Shelter said it believed this could be as much as £50m a year.
At least three Labour-led councils are set to promise not to evict tenants who get into arrears.
Fife Council said it had agreed not to pursue eviction measures, provided tenants had contacted the council to discuss their financial position and were doing all they reasonably could to avoid falling into arrears.
West Dunbartonshire said it had been looking at a variety of measures to help tenants without putting the housing budget at risk.
Renfrewshire Council will debate the issue on Thursday.