North Sea oil bonanza 'unlikely', says think tank CPPR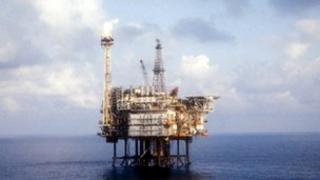 A think tank has rejected suggestions that Scotland could be on the brink of another oil bonanza.
The Scottish government claimed that North Sea production could generate a great deal more in tax revenues than had been estimated.
But a report by the Centre for Public Policy for the Regions (CPPR) said a return to the boom years was unlikely.
It added that a more realistic scenario was that revenues would remain flat or fall slightly in real terms.
The Scottish government's Finance Secretary John Swinney welcomed the CPPR's report but said its analysis was not yet finalised.
Earlier this month the SNP minister said its first Oil and Gas Analytical Bulletin forecast production in Scottish waters could generate up to £57bn in tax revenue by 2018.
CPPR concluded in its document that even if North Sea revenue generates towards the top of that projected by the Scottish government, "it would not mean a return to anything like the level of revenues seen in the early 1980s".
It added that "to suggest some sort of new oil-tax revenue boom is about to emerge is not readily supported by the evidence".
The CPPR said it looked at analysis of both the Scottish government and the UK's Office for Budget Responsibility (OBR) and that, under most scenarios, North Sea tax revenue was expected to be flat or falling in real terms and remain well below its 2011-12 level.
It went on to back Fiscal Commission recommendations for Scotland to aim for an onshore balanced budget in the long term, allowing for all oil and gas receipts to be saved in an oil fund.
Report author John McLaren said: "Scotland's mainland fiscal balance, excluding the North Sea, is very heavily in deficit, both in absolute terms and relative to the UK's. This position improves considerably once a geographic share of North Sea revenues is added in.
"However, as the Fiscal Commission pointed out, in the long run the objective should be to achieve as close to an overall onshore budget balance as possible."
Mr Swinney insisted that all forecasts were based on current UK government spending priorities.
He added: "The mid-range scenario used by the CPPR in this report shows Scotland better off than the rest of the UK over the six-year period to the tune of £210 for every person in Scotland - and even their worst case scenario shows Scotland's fiscal deficit falling every year.
"An independent Scotland, with full responsibility for taxation and spending, will be able to make its own choices - for example on defence, where we have already indicated Scotland will be able to make savings while still spending more on defence in Scotland than currently is by the UK government."
The head of the pro-union Better Together campaign, Alistair Darling, said the CPPR report was "devastating for the nationalists".
He added: "In their desperation to stave off some bad political headlines they cooked the books on oil and tried to tell us one thing when they know the opposite to be true.
"Salmond, Sturgeon and Swinney have all said that a boom is coming. This latest independent report says that there is no evidence to back this up."