Public consultation backs lowering drink-drive limit in Scotland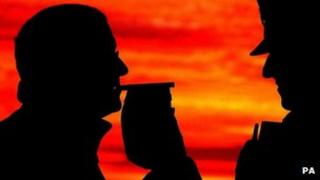 The drink-drive limit in Scotland should be reduced, according to the majority of responses to a Scottish government consultation.
Nearly 74% of those who responded said they wanted to lower the limit.
Following the Scotland Act 2012, Holyrood was given control over drink-drive limits.
The Scottish government believes lowering the limit from 80 milligrams per 100ml of blood to 50 milligrams will make roads safer.
Justice Secretary Kenny MacAskill said that, before the limit could be lowered, the government needed to consider a number of issues, including how motorists driving into Scotland from England would be made aware of the changed limit.
Mr MacAskill said: "On average, 30 families every year have to cope with the loss of a loved one and around 900 people are treated for injuries caused by someone who thought it was acceptable to drink alcohol and get behind the wheel and drive. We cannot let this continue.
"Lowering the drink-drive limit will help make Scotland's roads safer and save lives.
"The evidence is clear and the vast majority of those who responded to our consultation support the Scottish government's plans for change.
"The consultation now allows us to progress formal discussions with the police and the UK government on the recalibration and testing of drink-drive enforcement devices to ensure prosecutions are as robust as possible."
BMA Scotland welcomed the Scottish government's plans for a reduction in drink-drive limits on Scotland's roads.
Dr Charles Saunders, deputy chairman of the organisation, said: "Doctors see and treat the tragic consequences of avoidable road accidents caused by drink driving and therefore believe that there is no excuse for keeping the level at 80mg.
"Almost every European country has a 50mg or lower limit and we are happy that Scotland will now be following this lead. Every death represents a family tragedy and every serious injury can be devastating for the person and their relatives."
Labour's justice spokesman Lewis Macdonald welcomed the move.
But he added: "What we need instead is a robust justice system to enforce the changes and it is clear the SNP cannot be trusted to deliver this."