Alex Salmond saddened at Cardinal Keith O'Brien's resignation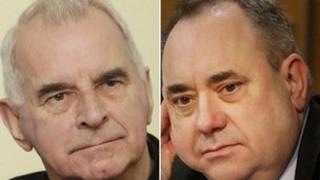 Scotland's First Minister Alex Salmond said he was saddened to hear of the resignation of Cardinal Keith O'Brien.
Britain's most senior Roman Catholic stepped down as Archbishop of St Andrews and Edinburgh after claims of "inappropriate behaviour" with priests.
Mr Salmond had clashed with the cardinal over his government's same-sex marriage bill plans.
Cardinal O'Brien said gay marriage was a "grotesque subversion of a universally accepted human right".
Despite the objections of the cardinal and others, the Scottish government expects to have an equal marriage law brought in by the beginning of 2015.
Cardinal O'Brien is now being investigated by the Vatican after it was claimed in Sunday's Observer newspaper that he acted "inappropriately" towards three serving priests and a former priest.
The clergyman has contested the accusations.
He had been due to travel to Rome this week to take part in the conclave to choose the new Pope. However, he will not now go to the Vatican to take part in the election.
Mr Salmond said "none of us know" the outcome of the investigation into the allegations made against the cardinal.
The SNP leader said he had found him to be "a good man for his church and country".
He added: "In all of my dealings with the cardinal he has been a considerate and thoughtful leader of the Catholic Church in Scotland, stalwart in his faith but constructive in his approach.
"The hugely successful visit of Pope Benedict in 2010 was a highlight of his cardinalship and symbolised the key role of the Catholic Church in Scottish society.
"It would be a great pity if a lifetime of positive work was lost from comment in the circumstances of his resignation."